Senior art show opens in William Rolland Gallery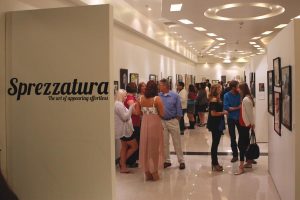 Sprezzatura: The Art of Appearing Effortless, premiered in the William Rolland Gallery of Fine Art on April 26, featuring works of art created by graduating CLU art students Lauren Cabral, Felicia Castro, Joseph Clarkson, Andrew DeGoede,
Chelsea Fletcher, Allison Milward, Brittany Mc Ginley and Nicole Tracy.
Kristi Colell, adjunct art lecturer and guide to the eight students, opened the reception with a short speech. CLU President Chris Kimball, curator Jeff Phillips and William Rolland, the gallery's namesake, also spoke briefly, each celebrating the young talent gathered in the gallery.
"It's exciting to be in this new space for the senior show with great art. It's a big step forward for the university," said Kimball.
Members of the California Lutheran University art department took turns introducing each featured artist with stories of their creativity and character and the bonds that had formed over the course of semesters spent learning together. Tony Pro, adjunct lecturer in design and painting, hugged Clarkson and DeGoede at the conclusion of his speech, saying in a display of open emotion that the two of them had hearts of gold.
"Nicole's 'If By Morning' really stood out to me…it's Van Gogh-esque and appealing to the eye," said junior Shireen Ismail.
Tracy and her work attracted attention throughout the evening, to the point of people requesting her signature on their copy of the program.
"It's a little scary, presenting my art like this. It's always been intensely personal. A self-portrait, my sister, my mom, my nephew…it was never in my mind when I was painting these things that I was going to be selling them. But if someone wants to hang my picture up on their wall, I'm not going to stop them," said Tracy.
Phillips spent the evening discussing the art on display with many admirers in the gallery.
"I like the fact that it's eclectic, the art and the audience. It reflects the student body," said Phillips.
Several people in attendance commented on the significance of the art show for CLU. Gary Heathcote, an architect in Westlake Village, was very enthusiastic about the exhibit and what it could do to advance the university.
"Marvelous. It's one of those things that this school has needed to launch a powerful art program," said Heathcote.
The exhibit will continue until May 18. The William Rolland Gallery can be accessed on Thursdays and Fridays from 10 a.m.
until 2 p.m. and on Saturdays from 11 a.m. until 3 p.m. A meet and greet with the artists will be held on May 11 at 4 p.m.
"The students have been really good. They are technically well-trained, and that's wonderful. I'm proud of the show," said Colell.
Jonathon Christopher
Staff Writer
Published May 1, 2013