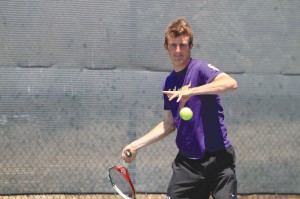 The men's tennis SCIAC Championship Finals were held this past weekend at Whittier College where the Kingsmen brought their final season record to 18-4. On Friday, May 3, the No. 5 Kingsmen swept Chapman University, 5-0. Following that, they defeated the No. 12 University of Redlands, 7-2.
At the start of the season, coach Mike Gennette knew that the experience of the team would bring them to match last season's success. Gennette believed the powerful capabilities of the seniors would guide the team to the SCIAC Championship.
During the match against Chapman, seniors Nicholas Ballou and Ray Worley, who won doubles at last weekend's Ojai Tennis Tournament, started doubles off successfully. The No. 2 team of Alex Nichols and Connor Treacy continued the streak with a win of 8-3, while No. 3 team Marcelo Sousa and Thomas Millet defeated their opponents 8-2. The Kingsmen also took all the singles matches.
"As a team, we have only lost to three teams and this is the longest a CLU team has been in the top five for consecutive ranking periods. We have all come so far during the season. We feed off each other and are always learning from one another," said Ballou.
While playing Redlands, CLU won all three doubles matches. Worley and Ballou continued their hot streak as they both won their singles matches. Treacy and Millet also brought wins for CLU.
Having success on the doubles court has been a big step for Worley and Ballou. When Worley first got to CLU, he was playing No. 3 for doubles, but has earned the number one spot.
"He deserves every bit of that trophy because of how hard he has worked to be as good as he is today," said Ballou.
The SCIAC Finals continued on Saturday with the Kingsmen facing a 6-3 loss against No. 1 Claremont Mudd-Scripps Stags.
Ballou and Worley's undefeated season in doubles ended, while the No. 2 and No. 3 teams both brought home wins.
For the singles matches, Ballou continued his undefeated season with a win. Worley also recorded a win for the Kingsmen.
Nichols, Treacy, Millet and Devon Belcher were all defeated in their matches, leading to a win for the Stags.
"We had an amazing season and were a really strong team. We started the year off ranked fifth in the nation, and we went into this weekend ranked the same. We were able to meet last season's success and hope to continue it on this upcoming weekend," said Treacy.
Up next for the Kingsmen are the NCAA Division III Regional Championships this weekend, May 10, 11 and 12.
Caitlin Dimmitt
Staff Writer
Published May 8, 2013