Students Take Back the Night with Tang Soo Do lessons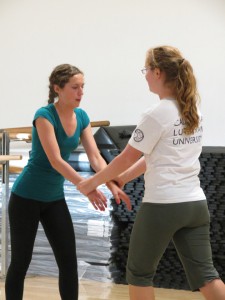 Tang Soo Do and Feminism Is… clubs joined forces last Thursday, May 2, to equip students with the knowledge to protect themselves in case of an attack.
This special hour-long self-defense class was part of CLU's Take Back the Night event last Wednesday and intended to teach students how to react in various scenarios.
Students were taught that, when attacked, most victims tend to aim for the aggressor's groin. In reality, they should aim to kick him or her in the knee. This will cause the attacker to collapse to the ground and give the victim enough time to run to safety.
Students were also taught to remain calm and attack the aggressor when he or she least expects it, as this will catch the aggressor off guard and diminish the chances of him or her fighting back.
Seth Wagerman, psychology and Tang Soo Do professor at California Lutheran University and adviser of the Tang Soo Do club, has taught self-defense classes at previous Take Back the Night events and was interested in bringing them back to campus this year.
"I've seen a lot of people carry mace or even want to carry a gun, but I've always said that an attacker can take your mace away from you and spray you with it, or they can take your gun away and shoot you with it, but if you have knowledge of how to defend yourself, that's something that you always carry with you and no one can ever take away and use against you," said Wagerman.
The class aimed to make students feel confident when walking alone at night, knowing that they will be able to defend themselves if they are ever attacked, he said.
"I perceive myself as a feminist also, so as a feminist who teaches a class in the psychology department on gender differences and as a martial artist, what a great way to serve the community," said Wagerman. "Martial arts is a weapon that can never be taken away and used against you. It's invaluable knowledge that everybody should have."
Wagerman taught the class with the help of seniors Gurpreet Sahan and Dali Quintanilla, co-presidents of the Tang Soo Do club.
"I know people here are going to walk away with confidence to protect themselves. Maybe they don't remember everything that we did, but if they remember something they can use it if the situation arrives," said Sahan, who has his black belt. "We're all here to look out for each other."
Feminism Is… club Co-President Kacy Cashatt was interested in bringing a self-defense class to campus because she has felt scared when walking alone at night, she said.
"Hopefully [students learned] how to get away from someone and that Tang Soo Do, or karate, is helpful for real life," said Cashatt. "People should join the Tang Soo Do class because you can learn a lot."
Junior Amanda Garcia heard about the event through Facebook and enjoyed it so much that she is planning on taking a Tang Soo Do class in the fall, she said.
"It was a lot of fun," said Garcia. "I would absolutely recommend it to other students."
Mayra Ruiz
Staff Writer
Published May 8, 2013