Bieber fever hits PR class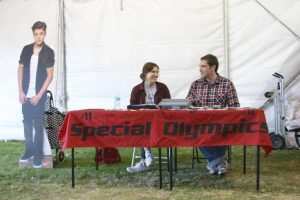 CLU students in the advanced public relations class have overcome several obstacles during their class project of raffling off Justin Bieber tickets to raise money for Ventura County Special Olympics. Met with success as well as hardship, the class project gave students a taste of the real public relations world.
"With this class, I had to put 100 percent towards this because the Special Olympics could get into a lot of legal issues if I didn't do all my research, and I want to make sure the students from Cal Lu look awesome," said junior Vim Iglesia. "I probably stressed out a little too much because it's a real life thing, but I really enjoyed what I learned."
Beginning in the spring 2013 semester, assistant professor of communication Jean Sandlin had students in her advanced public relations course begin to work on the project that they would continue working on throughout the semester.
The project, which the class calls SO_Bieber, is an experiential service-learning project where the students use strategy to accomplish an organization's mission. In this case, the class is raffling off two sets of VIP box seat tickets for Bieber's concert on June 24 at the Staples Center. The proceeds will go toward VC Special Olympics.
Sandlin said the project began with a student at La Reina High School who started a nonprofit organization to help fund a couple different fundraisers each year.
"This girl's foundation got Justin Bieber tickets to be raffled off for the Special Olympics," said Sandlin.
Jan Radnoti, regional sports manager for VC Special Olympics, then came to Sandlin with this project.
"We wanted to tap into that Bieber fever," said Sandlin.
Sandlin wanted to perform outreach for the project using social media to sell the tickets, but when the class did the initial pitch to the client with their ideas, they found out they were not allowed to legally sell raffle tickets online through PayPal.
"We had an enormous obstacle. We can't use PayPal for raffles," said Sandlin. "My students did a great job repositioning it as more of an on-site, high-touch campaign which we had not intended."
The students then had to brainstorm new ideas to sell the raffle tickets and generate more donations.
"I got in contact with someone who I used to work for who owns a consulting business, and he was willing to donate money to the cause and he didn't even purchase tickets," said senior Andi Ferraud-Shepher. "So that was a pretty big advancement for the project in terms of supporting Special Olympics and getting money."
Along with assisting Iglesia and other students design the raffle tickets, senior Leanne Blackwell has also been working on trying to get donations.
"My oldest brother is autistic and he does horseback riding in the area," said Blackwell. "I am in the process of reaching out to those therapeutic riding centers to see if they want to buy tickets."
The students have also been doing what they call "Bieber storms." They will set up for an hour somewhere with a life-size Bieber cut-out to sell tickets. They let people know where they would be using social media sites including Facebook, Twitter and Instagram.
Students of Sandlin's class think that this experience will help them in the future with potential careers.
"This is resumé material, this is my portfolio," said Igelsia. "It gives you the stresses and challenges of a real-life experience."
Ferraud-Shepher said the challenges they faced turned out to be a good thing for her own work experience.
"The fact that the campaign hasn't been too successful, per se, has been a learning experience itself, because you kind of have to learn to roll with the punches," said Ferraud-Shepher. "It was frustrating, but I think it's a really good portrayal of what real life is going to be like in the PR world."
Sandlin said the class has raised about $2,000, and is going to continue to try and generate more sales until the raffle ends on May 15.
Tickets are available for purchase at the Special Olympics website, sosc.org/biebervip or by calling (805) 650-7717.
The students also recommend following them on Twitter with their hashtag #SO_Bieber to see where they will be selling the tickets next.
Ventura County Special Olympics will do the official drawing on June 4 to determine the winner.
Heather Ford
Staff Writer
Published May 8, 2013