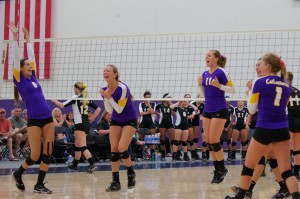 The No. 7 ranked California Lutheran University Regals volleyball team mirrors the motto of popular mid-1970s band Black Sabbath. This may be a strange comparison to some, but not to the all-time winningest CLU head coach Kellee Roesel.
While the intense melodies of Ozzy Osborne were blaring through Roesel's speakers in her office, she paused and illuminated on the hardcore style of volleyball she has instilled in her players throughout her seven year stint at CLU.
Finishing atop the Southern California Intercollegiate Athletic Conference for the past three years, the Regals continue on another quest for dominance. After already starting off their season 7-1, the Regals seem to be well on their way to another successful SCIAC title run.
"We are deeper at every position and our offense is much more balanced this year," said Roesel. "I have a returning group that absolutely dedicated themselves to the things they wanted to do."
Roster depth was key to last year's season as well. During the Regals 2012 campaign, senior setter Jackie Russell was sidelined early due to a broken left hand. Junior setter Jenna Chavez stepped in and handled the job nicely, finishing the season with 1,116 assists.
However, Russell is freshly rehabbed and ready for action this season.
"We want to dominate," said Russell. "We are going to do everything we can to dominate. It has always been our mentality every season."
Russell, the all-time leading assists holder, has already tallied on 224 more assists for the 2013 season.
Russell's sets are being fed to a striking unit that has SCIAC opponents on high alert. This unit is led by Junior outside hitter Kylie McLogan.
McLogan, the reigning SCIAC Player of the Year, looks to continue the offense prowess she exhibited last season. She was the head of the reigns with 471 kills in 2012, equaling a 4.49 kill per set ratio and a .251 kill percentage. She currently stands sixth on the all-time kills list with 959 kills, not including the 84 kills she has tallied up this season.
While it is nice to be recognized individually, McLogan harped on the talent and confidence she has for in this particular group of players.
"We are young, but that speaks for the experience we gained last season," said McLogan. "We had so many young girls last season, that this season we know more so of what to expect when we get to the higher levels and we are far more prepared."
Playing at the opposite end of McLogan is sophomore outside hitter Allie Eason.
Eason, who was labeled with the SCIAC Newcomer of the Year award and holds Second Team All-SCIAC honors, proved to be a vital part of the Regals offensive scheme in 2012.
"It was a good confidence booster coming into this year," said Eason. "Having that kind of experience and getting that kind of recognition shows me I did a good job."
Eason shares the same thoughts as her fellow striker McLogan, expressing confidence in the games to come.
"The experience will be there. We have a lot of potential still and as of now we are working really well together with a lot of chemistry," said Eason.
While Eason and McLogan are the primary offensive weapons for the Regals, the arsenal is bigger than it may appear.
The middle comes packed with many differing players, primarily featuring senior middle blockers Lauren Rohach and Haley Tamagni.
Rohach has been a team leader since she stepped on the court with the Regals in 2010. Her 2012 campaign was her most impressive year, as she finished with 252 kills and 78 blocks. Her athleticism on defense is the attribute that sets her apart from other middle blockers in the SCIAC.
Tamagni, after appearing in nine matches in 2012, has made her way into the starting rotation this year. After only flooring nine kills in 2012, Tamagni has already reached her career high, which currently stands at 35. She also has four blocks and eight service aces, as well.
Roesel spoke highly of Tamagni's work ethic during the offseason.
"She's really good in the front row. She can play any position. She knew that we were graduating three middles and she came to me in the offseason and said 'I'm going to be the other starting middle'," said Roesel, who continued to express her surprise in her. "I couldn't be happier for her."
While the offense has been dominant, the defense has been just as clutch. Leading the defensive squad is junior libero Kennedy Peters.
After being primarily used as a defensive upgrade in all 34 matches last season, Peters looks to continue her smooth hand on defense this year. While she finished fourth on the team in digs last year with 277, she has continued to keep her defensive hand strong, totaling 77 digs already in 2013.
The Regals have been slaying SCIAC opponents for the past five years, taking the past three SCIAC titles. They look to keep the impressive streak alive for another regional birth.
"I'm not one to predict," said Roesel. "I think we have the talent for this to be a very special year."
The Regals traveled to Atlanta, Ga. this past weekend where they participated in the Emory Invitational.
They beat every single opponent in Georgia including No. 12 Christopher-Newport and No. 2 Emory.
Tamagni continued her impressive start to her senior year and was named Tournament MVP.
Nicho Dellavalle
Staff Writer
Published Sept. 17 2013