Cortney Jordan up for Woman of the Year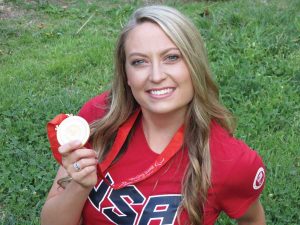 After winning four medals in the 2008 Beijing Paralympics, four medals in the 2012 London Paralympics and six medals at the World Championship in Montréal this past August, recent California Lutheran University graduate Cortney Jordan is on her way to accomplishing even more.
Jordan has been nominated for the National College Athletic Association's 2013 Woman of the Year Award and selected as a top 30 finalist. Jordan is also the first woman Paralympian to ever make the top 30 selection.
According to NCAA's website, "the top 30 honorees reflect the pillars of the Woman of the Year award, with outstanding achievements in academics, athletics, community service and leadership."
The website also states there are "ten women from each of the three athletic divisions that make up the top 30 selection."
The nominees come from a variety of NCAA sports. Nine finalists will be chosen from the top 30 selection and three will proceed to Indianapolis where the award winner will be announced at the annual NCAA Woman of the Year ceremony.
"Cortney had the character," said CLU swim Coach Tom Dodd. "The athletics department was really really impressed with Cortney as a person and what she brought to our athletic department, just her will and determination."
Dodd also commented on Jordan's abilities, calling her a "highly motivated athlete" and a "very hard worker."
In a phone interview this past Wednesday, Jordan said that she found out about her nomination this past June. First, she was selected in the top 400 category, then received a certificate that stated she was the SCIAC conference nominee. In July, Jordan found out that she had made the top 30.
"I had just gotten back from Worlds. I had slept for like six hours and woke up to a text from my sister saying that I had made the top 30. I was so excited," said Jordan.
Jordan considers herself as more of a Paralympics athlete, rather than a college athlete so when she received the news of the NCAA nomination, she felt honored.
"Working with Debbie Day, Tom Dodd and Dan Kuntz and being nominated by Cal Lu for this award, I was honored because there are so many awesome college athletes across the country," said Jordan. "I never really thought of me getting it."
However, Jordan's nomination was no surprise to her former CLU teammate Mimi Harbach.
"She was the nicest and coolest teammate I've ever gotten to work with and practice with. She is so selfless in every way," said Harbach.
This summer, after saying good-bye to CLU and her swim teammates, Jordan continued to shine. She swam a number of events at the World Championship in Montreal; the 50, 100 and 400-meter freestyle, the 100-meter backstroke, the 4×100 meter freestyle relay, the 200 individual medley and the medley relay. Jordan won MVP for the USA team and was the country's flag bearer. She took home three gold medals in the 50, 100 and 400-meter freestyle, the silver for the 100-meter backstroke and a bronze for the 200 individual medley freestyle relay.
Upon returning from Montreal, Jordan realized she needed a break. She has spent the last month taking a step back from training and decided to travel all over the country visiting her family and friends.
Jordan has also decided to move to Baltimore to focus on furthering her education by applying for grad school and training at the Olympic pool there. She will be taking the GRE next week and is hoping to get into Johns Hopkins University to study either elementary education or special education.
"I want to be a teacher. I know that and I have realized this year that I definitely have a soft spot for special education," said Jordan.
Jordan hopes to continue helping with team USA and its training this year.
"It can be really stressful at times and it's the biggest competition in the world. I want them to get through it with little stress as possible, so I will try to stay around until next year when they compete at the Pacific Championship," said Jordan.
In the mean time, Jordan continues to leave an inspiring impression around campus, especially with the people she worked closely to.
"Cortney told us to embrace diversity. She taught me that you have to take chances on people and if anything, character will get them through," said Dodd.
As for Jordan's next long term goal, she plans to compete at the 2016 Paralympics in Rio De Janeiro.
Emily Behrs
Staff Writer
Published Sept. 18, 2013