Students remember 9/11 with bracelets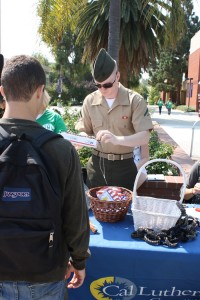 It was a day that sent shivers across the nation as media outlets were airing the attacks on the World Trade Center and Pentagon.
Though 9/11 is a day of tragedy, it is also a day to inspire charity and to reach out to the victims, survivors and heroes of the nation. As of 2009, Congress made 9/11 the official Day of Service and Remembrance.
On a table appropriately situated next to the flagpole, California Lutheran University students were granted an opportunity to honor and remember those in the service. Materials were laid out to create paracord bracelets to send to troop members as a sign of appreciation.
This is only the program's second year and it had a successful turnout with over 100 students becoming involved.
"Support is nice to see. It's about taking time to help others," said Cpl. Lance Skidmore.  Skidmore was a staff member of the table who helped students make bracelets. As students would take a peek at the table, he would encourage them to join.
"It's nice to see people give back," said Skidmore.
A majority of CLU students were in grade school when the attacks occurred. The program allowed the students to take a few minutes to remember and show appreciation for those it affected.
"It's an opportunity for students to tie 9/11 back to an action as opposed to a very terrifying event," said the Coordinator for Community Service, Karen Schomaker. Schomaker was the coordinator for the Day of Service and Remembrance event.
"I knew the paracord bracelets were popular, so I hoped they would catch the attention of students," said Schomaker. "It was cost effective. It was high profile to get other students to come. We had strong participation. To me, it was a successful event."
Schomaker noted the importance of acknowledging those who have served and are currently serving the country. Schomaker's fiancé is currently active duty in the army. She grew up in a high military area back in Virginia, making her service project one that hits close to home.
"9/11 still hits that personal note for me," said Schomaker. "I'm able to use this opportunity to remember the day in a more positive way, using a service activity to have it connect back to our service members."
"It's just awesome and it feels great to give back," said freshman Lauren Coscolluela.
Berlin Galvan
Staff Writer
Published Sept. 18, 2013