Another strong start for the Regals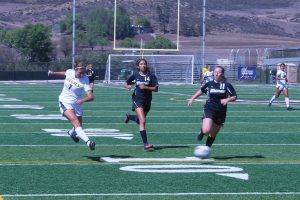 On Sept. 21, the California Lutheran University women's soccer team dismantled Whittier College 7-0 to give them an overall record of 5-2 this season. The Regals are now 2-0 in SCIAC play.
CLU controlled the tempo from the get-go, maintaining the momentum set by senior forward Kristina Hulse's goal 11 minutes into the first half. This was her first of two goals during the contest.
Chelsea Braudo put the Regals up 2-0 scoring with 21:03 to go in the first half. Hulse pinned Saturday's success on the Regals' growing chemistry.
"We're really just getting used to each other," Hulse said. "We're starting to blend. We're getting open shots because we know where our teammates are."
The Regals were clearly the aggressor throughout the game, winning the corner kick battle 15-0. The Regals also got 27 shots off while Whittier shot the ball only once. Attacking early was the key to Saturday's contest, according to Head Coach Frank Marino.
"We came out and set the tone early by getting some corner kick opportunities," Marino said. "Scoring first helps, obviously. It's important to get a win in our first home game."
Regals' senior captain defender Anna Medler took advantage of one of CLU's 15 corner kicks with a header for the first goal of her collegiate career.
Medler had an assist in the first half, as well and anchored a CLU defense that controlled the game from the start, making it nearly impossible for Whittier to get the ball across midfield.
Medler's goal with 12:13 left to play in the first half made it 3-0 in favor of the Regals and sent Whittier into halftime looking at an insurmountable deficit. Medler also gave credit to the team's chemistry and ability to connect with each other on and off the field.
"We've worked really hard to connect with each other," Medler said. "It feels good sticking it to SCIAC. We're letting everyone know that we're here to stay."
Whittier was unable to stop the scoring onslaught as the Regals scored four more goals in the second half on their way to a 7-0 rout of the Poets.
Freshmen forward Bianca Deardorff scored a goal 11 minutes into the second half. Less than four minutes later, Hulse scored her second goal of the game.
Sophomore midfielder Brittany Eremita scored a goal with 18:27 to play in the second half and freshmen forward Katelyn Kimball sealed the win with a goal with 10 minutes to play.
There wasn't much action for CLU goalies junior Kristin Bailey and sophomore Karly Loberg, but they were able to get the shutout. The lone save of the game for the Regals was credited to Loberg.
CLU will host another SCIAC opponent, Occidental, tonight at William Rolland Stadium at 7 p.m.
Keith Sparks
Staff Writer
Published Sept. 25, 2013