Career services presents talk on changes to GRE
September 25, 2013|9 Views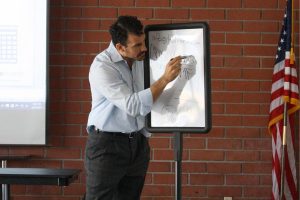 The Graduate Record Examination recently underwent changes that are now affecting students who are applying to graduate school.
These changes are mentioned on the GRE official website.  The biggest change has been the time for the examination. Avi Lidgi, founder of Twainstein, a test prep service geared toward helping students learn material on the GRE, explains that the two and a half hour test is now a four hour test.
While a test of this length is manageable, students' fatigue is responsible for many low scores, Lidgi said.
According to Lidgi, the GRE is a "test of strategic thinking designed to mimic the exact skill set that you use at grad school."
According to a presentation at California Lutheran University on Sept. 17, this is why the GRE is structured as it is. The computerized test adjusts according to students' demonstrated abilities when a question is answered correctly, the next available question will be a more difficult one.
Other changes to the GRE include new ways to answer questions. There is now numeric entry, multiple correct answers and a highlighted passage portion. There is also an on-screen calculator for the quantitative reasoning section, in which students can mark questions to skip and come back to later.
Apart from these, the GRE is the same test and a requirement for many graduate school applications.
"The test was pretty challenging to say the least," said Roger Williams University graduate student Cory Linder, who took the test last December. "The vocabulary was very hard since you were being tested on words that were not ones you would ever see in your life. The math section was difficult since they try to trick you in the wording of the questions. If you don't pay attention to the phrasing, you will get the question wrong."
According to the presentation, the test contains three portions. There are three sections of verbal reasoning, three sections of quantitative reasoning and two analytic writing sections. One of each of the verbal and quantitative reasoning sections are un-scored and used as a basis for the GRE company. Each section is roughly 30 to 35 minutes long.
This means that "you need to know how to get through [the questions] fast and move on to the next one," said senior Mike Mayers, who is planning on taking the GRE in October.
Mayers, who is majoring in Biochemistry, talked about how the GRE is important for getting into graduate school, but is not the only important factor.
Lidgi said the GRE accounts for 31 percent of your acceptance being preferred over your grade point average because it is the most accurate predictor of grad student success.
However, work experience, letters of recommendation, personal statements and GPA are also examined.
There are multiple ways to study for the GRE. Linder used prep books and recommended studying for at least two months for four hours a day to get a grasp on the vocabulary and math skills. While Mayers, who attended the GRE workshop, is not that stressed about taking the test.
"It is really a mystery test, not like the SAT where I knew exactly what I was being tested on," Mayers said. "I liked [attending] the presentation because it gave me an idea about what kind of questions I will be encountering and strategies to help get through them."
Interested individuals can visit the official GRE website at www.ets.org/gre to read official information about test centers and registering. To attend one of Lidgi's prep classes visit www.twainstein.com.
Danya Migdali
Staff Writer
Published Sept. 25, 2013