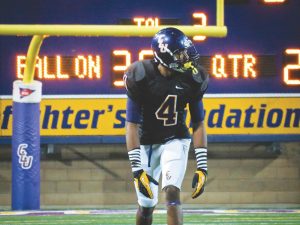 It's not every day that a football player at a Division III school gets the opportunity to sign and play for an NFL team.  However, that's exactly what happened to Eric Rogers, California Lutheran University alumnus and former wide receiver for the Kingsmen football team.
As a senior at CLU, Rogers participated in the Pro Day event that took place in March 2013. During Pro Day NFL scouts visited CLU to watch Rogers and other players showcase their skills. How players perform that day helps scouts determine if they want any of the players on their team.
Rogers was approached by various NFL teams, such as the Green Bay Packers, Oakland Raiders and Dallas Cowboys.  After researching what kind of receivers each team had, Rogers decided on the Cowboys. He signed with the team as an undrafted free agent player in April and participated in the training camp that took place this summer. Unfortunately, he was cut from the team at the end of August.
"I was a little bummed, but I knew there were cuts happening, so I was anticipating it so to speak," Rogers said. "The hardest part is just being out of football."
As a kid, he dreamed about being a professional football player, which he got to live out when he played for the Cowboys. Playing at CLU was only the beginning of his career as he broke records for receptions, touchdowns and total scores as well as being named 2012-2013 Co-Athlete of the Year.
"All of the guys are pretty close. It was fun playing with them and competing with them and winning with them," Rogers said. "We won four conference titles in a row. It was a great experience overall."
Although his days as a Cowboy were cut short, he said the learning experience he gained during those several months benefited him because he will be better prepared when another team reaches out to him.
"If I get that next opportunity, there won't be as much of a learning curve," Rogers said. "Now, I know how everything works, what they want from me and how I'm supposed to do this and that. I will be way ahead of where I was when I was with the Cowboys."
Eric Kagan, senior wide receiver said it was disappointing to find out Rogers had been cut from the team because he knew how hard Rogers had worked to get signed.
"He deserved it," Kagan said. "I was very proud of him and he'd been working hard the last four years here."
Andrew Worthley, sophomore wide receiver, was also saddened by the news of Rogers. Worthley, however, said he remains optimistic of Rogers' future.
"Eric was a real stand-up guy who worked hard. He made and I'm sure will continue to make all of us very proud," Worthley said in an email interview. "He set a really high bar for what it means to be a leader and receiver in this program and I hope I can follow in his footsteps."
Rogers said he has started the process of looking for a job in law enforcement, where he can use his criminal justice degree. However, he continues to practice to be ready if he gets another opportunity with an NFL team. If he does not get a call by March 2014, he will play arena football because he just wants to keep playing ball.
Mayra Ruiz
Staff Writer
Published Oct. 2, 2013