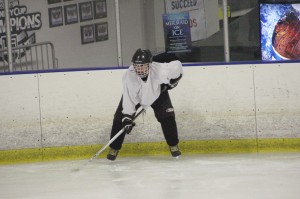 This season of hockey brings new opponents to California Lutheran University's Hockey Club. This year will mark the debut of the team in the CAHA Pacific College Hockey Association League.
The team will now be competing against schools like Stanford University, Sacramento State University, San Francisco State University and Chapman University.  The first game is at home on Oct. 4 at the Simi Valley Iceoplex against the University of California, Santa Barbara.
Established three years ago by CLU alumnus Spencer Votipka, the Hockey Club is now run by senior co-presidents Kyle Dzurko and Antonio Foreman and headed by coach Zach Margeson. The team consists of 20 players.
"The whole program is centered on dedication and our players take the program very seriously," Foreman said. "We started conditioning August 10, and some players that lived out of state had to fly here early and couch-surf with local players until they were allowed to move back on campus. Our players are determined to make this team a serious sport on campus."
With its large fan base, rigorous practices, 20 players and three coaches, the team is looking to become a respected sport on campus.
Bruce Gillies, who has a doctorate in industrial/organizational psychology recently became the faculty advisor for the team. Gillies, who also has a background in sports psychology has focused on not only getting the team physically fit for the season, but also mentally prepared.
"I think that we can elevate the game more through applied mental skills training," Gillies said. "The guys are good, they know to skate, they know how to shoot, they know the systems that are required, but it's that intangible of vision. How do you get vision while you're on the ice? I think that that's what we can bring to the team and get them a little bit more engaged in that perspective."
With this strategy under its belt, the team is confident. The team is also accepting any players who want to join.
"The team and club is open to anyone. We are co-ed and can compete with up to two women on the team as long as they are comfortable playing at this level and full contact," Foreman said. The team practices every Wednesday from 10 p.m. to 1 a.m.
Margeson is proud of his team this year. Part of the draw for him to coach this team was its commitment and enthusiasm.
"The team is looking great this year. We have a strong group of talented hockey players. That was actually one of the reasons I was excited to get started because of the team," Margeson said.  "We have great leadership and a good work ethic. I'm excited on what this year is going to bring for the team, the school and the boys."
To get information regarding the team's schedule, visit http://www.cluhockey.com.
Sarah DeLaGarrigue
Staff Writer
Published Oct. 2, 2013