Setting up one last time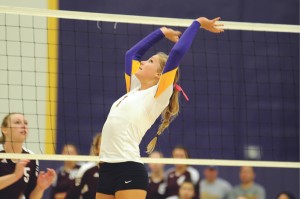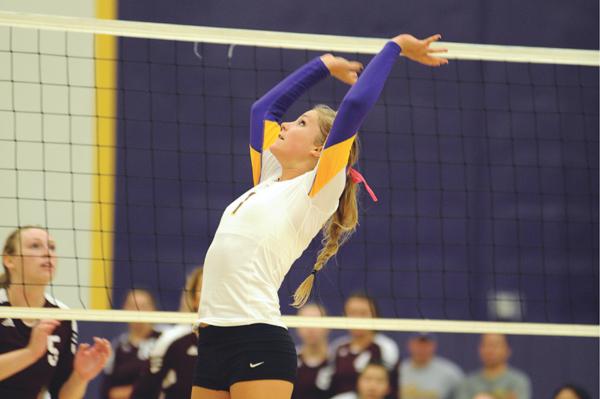 Regals volleyball captain Jackie Russell's self-ambition has not only pushed her through a recovery process, but her graduate school decision process as well.
Russell has been helping the Regals dominate SCIAC since the moment she stepped on campus in 2009 and this season hasn't been any different. She's the setter on the California Lutheran University women's volleyball team, holds the university's all-time assist record and is a three time All-American athlete. However, a year ago, her unexpected injury kept her out of the game and resulted in her cheering on her teammates from the sidelines.
In 2012, Russell was starting out her senior year and was getting ready to make the most out of what was to be her final season wearing purple and gold. In the first game of the season, Russell broke her left hand severely, resulting in surgery and an installation of three permanent screws into her hand. Because the injury resulted in her missing the entire season, Russell decided to redshirt.
This was a tough pill for Russell and everyone close to her to swallow.
"That was hard because I knew she loved it so much and we had such big, you know, plans for her senior year," said Kellee Roesel, head coach for the Regals.
Through the years, Roesel and Russell have built a relationship that goes beyond the volleyball court. As a coach, she could not explain how hard it was to watch not only one of her players, but also a friend go through that experience.
Graduation was approaching and Russell knew she wanted to incorporate volleyball into her graduate experience. While finishing her undergraduate degree in exercise science, Russell had to figure out whether she wanted to continue attending CLU for her master's degree and play volleyball or move on and attend a different school.
"It was honestly one of the hardest decisions I've ever had to make," Russell said.
Roesel voiced her desire to have Russell stay and play another season if she really wanted to. There would be a different dynamic coming in as a graduate student, but Russell's work ethic and leadership capability was not a worry for Roesel.
Assistant Coach Kevin Judd and Roesel have worked alongside Russell during her entire five-year career at CLU. Russell portrays leadership both on and off the volleyball court.
According to Roesel, she has respect from her teammates, but remains an approachable friend to them, as well.
Senior middle blocker Hayley Tamagni has seen Russell as a leader on the volleyball team since she started playing at CLU.
According to Russell, her final decision to stay and play another volleyball season at CLU was the right one. Her age may set her apart, but playing alongside her close friends and teammates every day makes that issue disappear.
"It's definitely different being older," Russell said. "The girls are the reason I came back, honestly. I love them so much."
While getting her teaching credential in the graduate program at CLU, Russell is enjoying her final season and doesn't take her days playing with the team for granted.
The team's record of 17-1 proves her leadership and skill picked up exactly where it left off before her devastating injury last season. She will conclude her career as a Regal playing the game she loves and searching for that elusive national championship alongside some of her closest friends.
"I wouldn't want to be anywhere else," Russell said.
Savannah Robinson
Staff Writer
Published Oct. 9, 2013