LASO and MEChA organize Latin American celebrations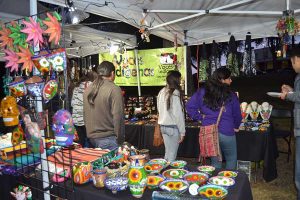 Fiestas, lotería and folkloric ballet are just some of the activities that surrounded the Hispanic Heritage Week celebrations at California Lutheran University from Oct. 7-10. The weeklong festivities were organized by various clubs and intended to shed light on Hispanic culture.
The Latino American Student Organization, Movimiento Estudiantil Chicano de Aztlan and the Multicultural and International Programs office organized events such as Día de la Raza, Libérate and Fiesta. The events coincided with the last week of Hispanic Heritage Month, which runs annually from Sept. 15 through Oct. 15.
The first event of the week was Día de la Raza, which is known as Columbus Day in the U.S. The event included a folkloric ballet dance lesson and a talk about the importance of the discovery of America which was hosted by Spanish professor Rafaela Fiore Urizar, who has a PhD. Libérate was the second event of the week and those in attendance were encouraged to liberate themselves from any social, racial or political struggle they found themselves in through music and art.
The third event was a Fiesta that consisted of lotería, which is a Mexican game of chance, prizes and music. The weeklong festivity came to an end with a chapel service honoring Hispanic culture that was held on Oct. 10.
"We just want CLU students to get more about Latin culture and to be aware that October is National Hispanic Heritage Month," said senior Yesenia Ibarra, president of LASO. "Our main agenda is to have them learn more about the culture and to know that we are welcoming to everyone."
Sophomore Justina Posadas, secretary of LASO, said she hoped that the various events would create awareness of the diversity of cultures around campus. Posadas added that the events intended to not only help students express themselves, but also to show them that they are not alone in their struggles with connecting with or embracing their culture.
"It is important to hold these events to give students an opportunity to demonstrate their pride for Hispanic Heritage and to educate students on Hispanic Heritage," Posadas said.
For the second year in a row MEChA was invited to join the Hispanic Heritage Week festivities. The club helped organize Libérate, which included an open mic opportunity for those who wished to sing, recite poetry or speak about their personal struggles.
"We're all not that different," said Marina Alvarez, junior co-president of MEChA. "We can relate to each other at a level that we might not ever expect."
Alvarez said she hoped that those who attended the events were able to learn something about Hispanic culture. Alvarez added that if an open mind and open heart were kept at the events, students would be able to relate to one another much easier.
"We're opening up this campus to some more diverse clubs, to diverse opinions and definitely showing that side of MEChA that incorporates social justice," Alvarez said.
Benjamin Melano, senior political science major, said he decided to go to the Fiesta event because he wanted to learn more about Hispanic culture and the Spanish language.
"We are a very diverse university and I think that every student should have the ability to explore different cultures while at CLU," Melano said. "I wanted to attend as many events I possibly could learn about the Latin culture."
Mayra Ruiz
Staff Writer
Published Oct. 16, 2013