iCLU gets full make-over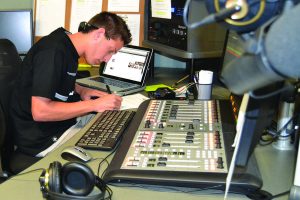 California Lutheran University's radio station, iCLU, has been revamped. The class has a new faculty adviser and the program has been rebooted with new features for the station.
Students who are enrolled in iCLU this year are probably in for a big surprise. Adviser Nancy Rodriguez brought in a new set of requirements. With her more than 15 years of radio experience, Rodriguez wanted to revamp the program.
"I've worked as a traffic and entertainment reporter for Metro Networks in Los Angeles, co-hosted mornings at KCAQ/Q104.7 FM in Ventura and currently work Cumulus Media as their news correspondent and public affairs host." Rodriguez said.
With this experience, she is bringing a new perspective to the program.
iCLU is now a show development class that works in conjunction with the students on-air time.
This produces more than thirty hours a week of live shows that run between the hours of 12- 9 p.m. Mon-Fri.
The class is also holding radio promotions, such as giving away Disneyland park hopper tickets and doing weekly public service announcements about various campus clubs and events, which have doubled their likes on Facebook.
Students are provided a student staff member during their one-hour show and Rodriguez checks in with students following their shows.
"I think most of my students were shocked and nervous when they found out they had to produce and air their own weekly one-hour show," Rodriguez said. "Now, most of them are having a blast playing their favorite music on the air and even have family and friends listening to them."
Students, like senior Alec James, enjoy the opportunity to get creative with their shows.  It is not something that most have done before.
"My favorite part about working with iCLU radio is the fact that for one hour of the day I can play any of my music and share it with other people listening on campus," James said. "In a way, it almost makes you create this alter ego personality because you are basically in a room alone and no one can see you so you can completely have fun with it."
This is precisely what Rodriguez is hoping her students gain from iCLU.
Each student gets a chance to creatively share their music with others and develop confidence in their own tastes.  The shows are entirely unique, giving the station a wide variety of listeners and a broad range of shows.
"You can tune in one day and hear indie music, followed by an hour of sports talk," Rodriguez said. "Tune in the next day at the same time and hear classic rock, followed by EDM. I love tuning in because it's never the same."
Junior and former iCLU student Jacob Soriano enjoyed that part of the class the most.
"It was always great to be able to hear how unique each show is," Soriano said.
As a student who did not have to participate in the weekly one hour shows now required of the class, he was impressed by how committed the students are.
"Doing a live show is a bit daunting," Soriano said. "I think the fact that students have to participate in that now is great; it really pushes people out of their comfort zones."
James agreed, saying, "I think a student can learn to gain a ton of confidence and just express themselves.  It was like we were told on the first day of class, if you aren't having fun, then you aren't doing it right."
Sarah de la Garrigue
Staff Writer
Published Oct. 23, 2013