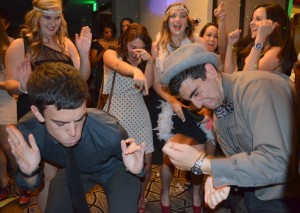 In a building filled with people dressed in flappers, short jackets, feathered headbands, and double-breasted vests,  Gatsby himself would have felt right at home.
This year, the Associated Students of California Lutheran University's Government brought back the first Homecoming dance in four years at their Club Lu event, Monte Carlo night. The gathering was held at the Hyatt Westlake Plaza in Thousand Oaks, Calif.
ASCLUG Programs Board Director, Katy Crabtree, explained how the programs board wanted to integrate Monte Carlo night with a dance this year.
"We worked with our administration and made sure they were comfortable reinstating the event. And since Monte Carlo night has gone so well these past two years, we decided to do a combination of both," Crabtree said. "We weren't as prepared for such a large turnout, but we are so glad everyone came out and it was such a great event, so we're really happy."
After ordering 500 wristbands for the event, ASCLUG senior committee chair, Ottilie Yee, couldn't believe how fast they ran out.
"Usually, we expect around 300 to 350 people, but this year we got over 500. We know that mainly because we ordered 500 wristbands for the event and ran out of them by the first hour or so," Yee said.
The lack of wristbands didn't matter though as students continued to pour into the event as they gambled fake money, ate hors d'oeuvres, took photo booth pictures and danced the night away.
"The venue was amazing and seeing everyone get all dressed up is always a lot of fun. Getting to gamble and play all of the games without actually losing money is always a great time, too," junior Maya Alvarado said.
The casino games included Blackjack, Craps and Poker.  In comparison to last year's Monte Carlo event, there were almost three times as many tables for gambling. This allowed students a better chance at winning some chips, which would later be exchanged for raffle tickets. The grand prize for the raffle at the end of the night included a trip to Las Vegas.
Sophomore Matt Frieda enjoyed the fancy attire of the night.
"My favorite part had to be all of the very beautiful regals that were here tonight. Everyone looked just absolutely dashing," Frieda said.
Junior Tim Schwochert also commented on the night saying, "It was an excellent evening and it definitely surpassed last year's event.  They did a really nice job and it was a really classy environment.  I'm glad they brought back dancing too, it was about time."
Overall, students were pleased with how the event played out and enjoyed the scenery and set up of the night.
"We had way more space and food to go around this year compared to last year's Monte Carlo night," Yee said.  "I think it turned out really well. I thought it might have been confusing at first with the three different rooms, but I think the flow went very smoothly."
Evan Engel
Staff Writer
Published Oct. 23, 2013