The 'Madness' returns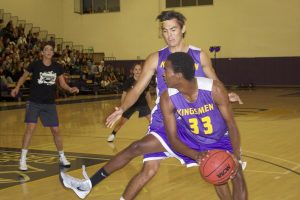 For two cans or $2, California Lutheran University students had a chance to participate in Midnight Madness to kick off the start of the Kingsmen and Regal basketball season.
Free Midnight Madness T-shirts were handed out upon entry along with beads and glow sticks.
The Gilbert Sports and Fitness Center held a full house for the event. School spirit was displayed throughout the gym as students wore purple and gold.
The CLU Cheer Team opened the event with various stunts and a pyramid to get the crowd going. The H2O dance club performed to pop music and the CLU Dance Team performed to hip-hop music, both engaging the crowd with their moves.
Pink, yellow, green and red glowsticks lit up the bleachers for the majority of the event.
"It was a great way to start the season. The crowd had a high energy and left me looking forward to the rest of the season," said Guy Lynott, sophomore forward for the Kingsmen basketball team.
Midnight Madness returned after a year hiatus with some changes. This year's Midnight Madness began at an earlier time, which was of concern to some students.
"I just wish [Midnight Madness] had been a shorter event and I wish it started later," Lynott said. "Regardless, it was still fun."
During the event, students participated in 4 on 4 basketball games. Prizes, such as an iPad Mini, Disneyland tickets, Beats by Dre and bungee chairs, were awarded.
Throughout the games, the crowd roared with both excitement and varying levels of sportsmanship. Sarcastic boos were heard at times throughout the audience directed at the play of the players but that did not hold them back from performing.
"Having won our way through two qualifying games, my partner and I, Amanda Miller, had the opportunity to play in the final game that was played on the main court," junior Barret McGinnis said. "I was bummed we didn't win, but still enjoyed the experience."
During the middle of the event, the basketball teams busted out some moves during the dance off.
"Seeing the basketball team mess around and just have fun with it was refreshing," junior Jacob Soriano said. "I wanted to jump down there and join them."
Lynott participated in the dance off and showed his various moves for a full house of students.
"I'm not a professional. I just danced for fun and it was definitely something else to let loose," Lynott said.
Midnight Madness provided an outlet for students to support the CLU basketball team while providing food to support a local shelter. Students who attended opened themselves up to a night filled with dancing, charity, prizes and free CLU gear.
The Regals begin on Nov. 15 against George Fox while the Kingsmen will kickoff their season against Loyola Marymount on Nov. 2.
Berlin Galvan
Staff Writer
Published Oct. 30, 2013