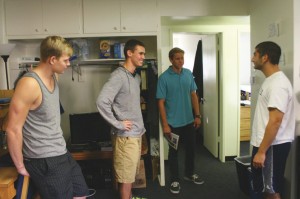 California Lutheran University hosts an array of events that offer prospective students a glimpse of a day in the life of a CLU student. Prospective students can visit the campus and go on a tour guided by a presidential host or they can sign up for Team Hospitality, which allows prospective students to stay in a residence hall overnight hosted by current CLU students.
"Team Hospitality provides an amazing service for future Cal Lutheran students," said Wes Sullivan, campus experience coordinator for undergraduate admission, in an email interview.  "Our current student volunteers help show prospective students what life is like on the Cal Lutheran campus by hosting them as part of one of our overnight programs."
A large number of students who stay overnight on campus as part of one the overnight programs, eventually enroll and become CLU students, Sullivan said. This was the case for sophomore Nicole Ahlering. Ahlering not only decided to become a CLU student after her overnight stay, but she also decided to become a host for other prospective students, she said.
"I decided to host students because I did an overnight stay before I came to Cal Lu, and that was the biggest factor in my deciding to come here," Ahlering said in an email interview.  "I'm still friends with a couple of the people who hosted me to this day, and I wanted to recreate that experience with a new batch of students."
Ahlering said she recommends other students  join Team Hospitality because it gives them the opportunity to both mentor prospective students and learn from their experiences.
"As cheesy as it sounds, I was also reminded that a little bit of kindness and attention goes a long way," Ahlering said. "For us, it doesn't seem like a big deal to sit down and point out where the classrooms are on a campus map, but to some students, it could make the difference between them being too intimidated to go here or not."
Presidential hosts also provide prospective students an opportunity to see what it is like to be a CLU student through campus tours. Kimberlee Jensen, presidential host and host for Team Hospitality, both gives prospective students tours of the campus and hosts a number of these students in her room every semester.
"I hope that the prospective students take away a confident feeling about college," Jensen said in an email interview. "I want them to be comfortable with the environment of college and by being able to be immersed in the college environment they really get a feel for what it will be like. I also hope that they are able to find their 'home away from home.'"
Programs, like Team Hospitality, not only benefit prospective students, but also current students who participate as hosts, said  Hannah Boelman, student worker at the admissions office.
"For prospective students, it's huge because it pretty much decides whether they're going to come here or not," Boelman said. "For [current CLU] students, it's fun because they get to show incoming students how much they like CLU and they also get free food, which is always nice for students."
Students interested in joining Team Hospitality or becoming a presidential host can email [email protected].
Mayra Ruiz
Staff Writer
Published Nov. 6, 2013