Eyes on the prize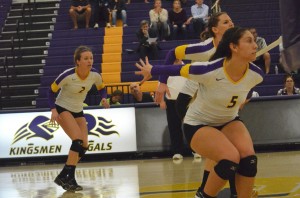 California Lutheran University's women's volleyball stayed true to their number one seed in the 2013 SCIAC Post Season Tournament. After their 3-0 sweep against Chapman University on Nov. 7., the Regals advanced to the finals against Claremont-Mudd-Scripps on Nov. 9. Victory followed the Regals as they defeated CMS 3-0 as well, giving them an automatic berth in the NCAA tournament.
The Panthers came into the semi-final matchup as the fourth seed in the tournament, with a record of 17-11. However, the team had already been defeated twice this season by the Regals, challenging them last time to a full match of five games.
"As a team, I think we played great tonight. We came out and won in three sets which is a goal of ours," said Kylie McLogan, junior outside hitter for the Regals. "We all really clicked tonight which was good."
Sophomore outside hitter Allie Eason led with 12 kills on the night.
"I thought the team did a really good job keeping the energy up," Eason said. "Tonight, we played Chapman the best that we've ever played them."
The final set was finished with a kill by sophomore right side hitter Caitlin Fransen as the Regals coasted to a 25-13 third set victory.
"Chapman is a really good team with an all American middle and a great coach," Coach Kellee Roesel said. "I felt like all season we've kind of had a target on our back with rankings and being undefeated. I told the girls today we go from being the hunted to being the hunter."
The Regals defended their undefeated record during the SCIAC finals against CMS.
"We played really well as a team unit because we knew it was going to be our last home game of the season," said senior middle blocker Hayley Tamagni.
The Regals showed off their teamwork by winning their first set, 25-17. The assist-kill combination by senior setter Jackie Russell and sophomore right side hitter Pua Mo'okini-Oliveira allowed for a quick first set victory.
The second found the teams tied at 21. They went back and forth until Eason brought on two major kills. The second set ended by the score of 26-24 in the Regals favor on a net violation.
McLogan and Tamagni led the Regals in the third set as they jumped out to a 15-5 lead. McLogan capped off the night with her 21st kill, ending the third set 25-14.
"During season, we let of our matches go to 4 or 5 sets, but we have changed our mindsets. We want to end other teams seasons by handing them their last loss at 3," Tamagni said.
Along with the automatice bid to the Division III tournament, sweeping CMS gave Roesel her 200th career victory.
"Now that we are in playoffs, we have been setting goals to make it as far as possible. Our ultimate goal is to make it to nationals and win that national championship title," Tamagni said.
The Regals are one team out of 64 who will continue practicing this week to prepare for their playoff games in hopes of making it to the championship.  CLU will travel to Trinity University in Texas to take on Hardin-Simmons on Nov. 15 in the first round of the NCAA tournament.
Emily Behrs
Staff Writer
Published Nov. 13, 2013