Fair trade goods to be sold at annual fair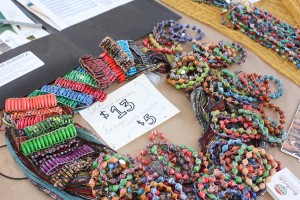 On Nov. 14 from 11 a.m. to 3 p.m. along Regals Way, California Lutheran University will host its 3rd annual Fair Trade Fair with the hopes of educating consumers on the origins of the products.
What does "fair trade" actually mean? According to senior Lisa Rowan, global justice intern for the Community Service Center, fair trade is "a certification that verifies that a product is ethically made: the farmers and manufacturers are paid a fair price for their work, the environment is protected and a portion of the products goes back to bettering the local community where the product is made."
The goal of the fair is to inform students of the process from production to consumption.
"We put together the Fair Trade Fair every year to make students more aware of the background stories behind the products that they buy," Rowan said. "We want students to start considering the effects of their purchase: buying a Nestle's chocolate bar supports unfair wages and often child slavery, whereas buying Fair Trade chocolate supports better living conditions for workers and keeping children in school."
Karen Schomaker, coordinator for CSC, agreed that the fair is "an opportunity for us to talk about what Fair Trade is and being a smarter consumer when you're going out shopping".
"We encourage students to not only take part in the fair, but to continue looking for Fair Trade options around campus and in other locations where they shop. It's amazing how much of a difference we can make with even the smallest of purchases," Rowan said.
Along with multiple vendors coming to set up tables to sell fair trade goods, the university will provide the opportunity to receive raffle tickets, allowing students to win prizes such as a scarf, a sweatshirt, Better World Shopper handbooks and pints of Ben & Jerry's ice cream.
CLU recently won a contest with Fair Trade Universities called The Late Night Snack Photo Contest.  CLU competed against other universities for the chance to serve free Ben & Jerry's ice cream for a year at fair trade campaign events. This prize will make its debut at the Fair Trade Fair.
According to Schomaker, CLU got the most amount of students to take pictures with Ben & Jerry's ice cream.
"The manufacturer that makes brownies for Ben & Jerry's fair trade ice cream is going to provide brownies for us, so that we'll have some fair trade food to sample," Schomaker said.
Aside from the Ben & Jerry's ice cream, Rowan said junior Berlin Galvan will sell bead products from BeadForLife, Fair Trade LA will sell a range of Fair Trade products and the CSC will run a table with crafts and products from Colores del Pueblo, an organization that sells fair trade clothing, handmade crafts and accessories from Guatemala.
"The [BeadForLife] beads are made by Ugandan women so that they can start their own businesses. It's an ethically sound purchase that helps someone across the globe," Galvan said.
Janella Caravetta
Staff Writer
Published Nov. 13, 2013