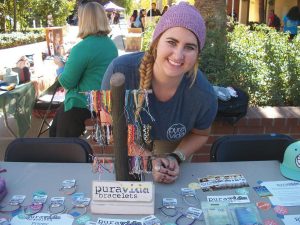 Before going out to buy cheap jewelry at your favorite store in the mall, you may want to consider buying a bracelet that can provide a full-time job for an artisan in Costa Rica.
Pura Vida Bracelets began after friends Griffin Thall and Paul Goodman took a college graduation trip to Costa Rica. It was during this trip that the Southern California friends met Jorge and Joaquin, two men selling bracelets on the streets of Costa Rica, according to the Pura Vida Bracelets website. Now, they can afford to live in a house of their own.
Thall and Goodman purchased 400 bracelets from the artisans and re-sold them in the U.S. The bracelets represent a pure, simple life or "pura vida" while also providing jobs to artisans in Costa Rica, who normally have a difficult time making ends meet.
Jorge and Joaquin started selling a few bracelets a week and now sell more than 20,000 a week because of this project, according to the Pura Vida Bracelets website.
"Honestly, it was pure happy chance. I was at PacSun down in Santa Monica and they had a few selections and I bought one," said junior Kassidy Hansen, the California Lutheran University campus representative for Pura Vida bracelets.
"I actually wanted to intern for them, but you have to live in San Diego to intern. I found the campus rep program and I couldn't pass it up," Hansen said.
Hansen has been a peer advisor for two years and an iCLU radio host since the second semester of her freshman year.  She loves being a campus representative for the organization because of all of the charities the organization works with, such as Save the Sea Turtles, Give2TheTroops and colon cancer awareness.
"I love being a campus rep simply because this company is so amazing and I love all the work they do," Hansen said. "Their products are cute, but it is the story that really seems to resonate with everyone. Once they hear that, they can't wait to see the product, so being able to share them with my friends and classmates is definitely the best part."
Senior Courtney Brenk is a Pura Vida customer who purchased her first bracelet when she heard about them from Hansen and has since purchased approximately 15 more.
"What first attracts me [to a bracelet] is the colors and hearing about the charity and what they do," Brenk said. "I really like the company and I like the fact that they also have charity bracelets because that's what really keeps me stuck to it."
Senior Disa DeFrese co-hosts the Wednesday night "Locals Only" show on iCLU radio with Hansen and said Hansen's love for the product she represents makes her the ideal campus representative.
"When she tries to sell the product, I think she actually has a good way of going about it," DeFrese said. "If you're having a conversation, she'll be like 'oh my God, look at these bracelets' or 'they got these new ones.' She has a good, relaxed way of going about it and not make it seem like you're pressured to buy something."
Junior Alicia Nunez, Hansen's roommate freshman year, said Hansen has a great work ethic and the best part is that she never complains about her responsibilities.
"She is the best choice for campus rep. Nobody else I know is willing to spend so much time and effort on a job she doesn't get paid for," Nunez said. "I am so proud of her. She is capable of great things, so this is just the beginning."
Anyone interested in purchasing a Pura Vida bracelet can visit the Pura Vida Bracelets CLU Campus Rep Facebook page, CLU_PuraVidaBracelets on Instagram or meet with Hansen, as she normally has bracelets in her dorm room.
Hansen also has a card reader for those who do not have cash on them, but still wish to purchase a bracelet. Bracelets start at $5 for the original design and go up to $75 for certain style packs, which can include braided, beaded and charity styles.
Although Hansen only has bracelets, she can make a special order for anyone interested in buying  Pura Vida beanies, snapbacks, phone cases or key chains.
Mayra Ruiz
Staff Writer
Published Nov. 20, 2013