Club Lu events cheer students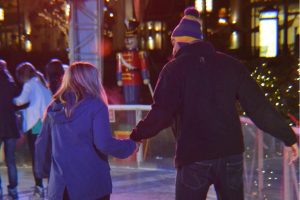 Finding something to do on a Friday night may be difficult for students in Thousand Oaks. Some students find themselves driving to Los Angeles or Ventura for nightlife.
For students without a car or the financial means to travel, it can put a damper on their social lives.
However, California Lutheran University offers activities, both on and off campus, for students to have fun at no cost.
This is Club Lu, a program that puts on events  sponsored by ASCLU-G, composed of a Senate and Programs Board.
Club Lu events are open to all CLU students and usually occur on Friday nights.
ASCLU-G holds these events to create a community for students to have an enjoyable college experience.
"The purpose of Programs Board is to represent the programming needs of the students of California Lutheran University, so Programs Board representatives plan events that will best meet the programming needs of our student population. We want Club Lu events to be fun, entertaining and engaging," said junior Katy Crabtree, ASCLU-G programs director.
ASCLU-G involves the CLU community when arranging Club Lu. Earlier this semester, there was the Fall Sports Kick Off.
Students were introduced to the fall sports teams, enjoyed a free meal from Tommy's Burger and entered a raffle for 300 different prizes including T-shirts and gift cards.
At another Club Lu event, students were encouraged to come out to the Kingsmen basketball game to cheer on the athletes.
Attendees received CLU spirit gear such as T-shirts, rally towels and foam fingers.
"I have been on board for two and a half years and so far my favorite Club Lu would have to be Monte Carlo Night. I love how everyone dresses up and the gambling is probably the best part. I mean, when in your life will you get the opportunity to gamble risk-free?" said junior ASCLU-G member Carlos Moran, in an e-mail interview.
Moran organized the Ice Skating Under the Stars event. Students were able to ice skate at The Lakes and enjoy complimentary hot chocolate and cookies.
Many of the Club Lu events are consistent year to year, such as Movie Night, Drop In and Rock the Campus.
One way the ASCLU-G Programs Board keeps students interested in the events is by featuring different movies, restaurants and performers.
For this semester's Movie Night, students watched "Monster's Inc." in Kingsmen Park while enjoying free Chunk-n-Chip.
There have been two different Drop-Ins this semester. Students received Pieology at a discounted price on one Friday night and a free Smashburger meal on another.
Rock the Campus showcased students' musical talents.
Free coffee and pastries were provided for students who attended.
The event supported the SEEdS for Haiti Club, who will travel to Haiti over winter break to educate Haitians on sustainable agriculture.
"I felt honored to be performing beside talented musicians and being able to represent what Cal Lu has to offer creatively. I had a blast on stage and the event directors were very obliging with what I needed to have the best performance possible," said senior Rock the Campus performer Kiersten Lopez. "I love that we also helped to raise funds for the on campus SEEdS project. The experience was gratifying as performer and as a student."
On Dec. 13, ASCLU-G is putting on Club Lu: Let it Snow from 7-10 p.m. at the Peppergrove Area located  behind the bookstore.
Students can decorate ornaments and cookies, take pictures with Santa, create holiday cards for the troops and go sledding.
For more information on other Club Lu events, visit www.callutheran.edu/hub.
Cate Dimmitt
Staff Writer
Published December 11, 2013