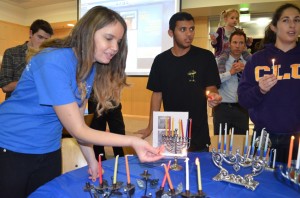 'Tis the season for joy and holiday activities. Even though California will not be getting a whole lot of winter weather this year, there are many activities put on by California Lutheran University to get you in the holiday spirit. With celebrations of all faiths and events ranging from ice skating to an alternative gift market, here's your guide to what is going on this December.
Club Lu is sponsoring two events before Christmas break, according to The Hub. On Dec. 5, there was "Ice Skating Under the Stars" at the Thousand Oaks Lakes.
There was free ice skating sessions from 7- 9:30 p.m., with two sessions for students to enjoy the ice rink.
Club Lu also will sponsor their annual "Let it Snow" event, Dec. 13, in which snow is brought to campus for students to play in from 7-10 p.m.
For those of you who get into the Christmas spirit with a little music, there were plenty of events this past weekend.
The CLU Choral Ensembles and University Symphony performed their annual Christmas concert "Gift of Winter," to an audience of community members, family, friends, faculty and students.
On Dec. 8, the theatre arts department also put on its first musical theater cabaret, "Songs for the Holidays," featuring student performers from different departments on campus.
Instead of going to the mall this holiday and buying family gifts from big corporations, why not make a donation in someone's name to his or her favorite charity? Campus Ministry held its "Alternative Gift Market" on Dec. 9.
Organizations, such as Pura Vida, ELCA Malaria Campaign, Beads for Life, Heifer International, and Free the Girls were available to students to purchase alternative merchandise and make donations in the spirit of giving back this season.
The Festival of Sankta Lucia is on Dec. 12 from 11:25-11:55 a.m. in the Samuelson Chapel.
Held by Campus Ministry and the CLU Scandinavian Club, this ceremony honors Lucia, the Christian martyr who died in 304 A.D., according to The Hub. Lucia, her attendants and their escorts are chosen by the undergraduate students.
Campus Pastor Scott Maxwell-Doherty, one of the facilitators of Sankta Lucia, said that there are many reasons why he likes this time of year.
"There are too many reasons to name all of them," Maxwell-Doherty said. "But, I love it when it gets colder and people seem to get closer and friendlier."
While these activities are happening on campus, students seem to be out of the loop. Many would like to participate in these activities, but are unaware that they are happening.
"I knew about the choir concerts, but that's because I'm in choir. I would like to have known that there was ice skating at The Lakes, but I found out about it too late," sophomore Philip Anderson said.
Similarly, junior Myles Moore was disappointed to know that an event, such as the Alternative Gift Market, was happening, but that he did not know about it.
"It's upsetting, you find out later about these great activities that you think, 'Man I would've liked to go to that'," Moore said. "But there was no advertising of these events, so nobody knew about them. You basically know that events are going on if you happen to walk by them."
Sarah de la Garrigue
Staff Writer
Published December 11, 2013