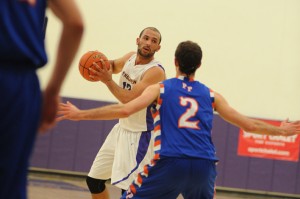 The Kingsmen basketball team used a second half surge and great three-point shooting to win a crucial SCIAC league matchup against Pomona-Pitzer by a score of 74-61 Feb. 1 at the Gilbert Sports and Fitness Center.
Leading the way for the Kingsmen were junior guard Arik Smith and sophomore center Corey Quintana. Smith tied his season high and scored 26 points for the second consecutive game, while Quintana notched his third double-double of the year, scoring 15 points and grabbing 10 rebounds.
Smith also had a LeBron James-esque block on a fast break layup in the second half that led to two made free throws by Quintana on the offensive end.
Junior forward Coltrane Powdrill also contributed 11 points and dished out five assists in 32 minutes.
The Kingsmen shot 60 percent from behind the arc and held the Sagehens to 26 second-half points en route to their seventh SCIAC victory.
Quintana, who was three for four from three-point range, said, "We knew they were going to go with a lot of zone, so we worked on our jump shots a lot throughout the week, and we just happened to hit a lot of them."
Head coach Rich Rider said that the three-point barrage was critical to their victory.
"Normally, we don't shoot that many threes, but the kids played well tonight," Rider said. "We were 9 for 15, which is very good for us, that kept us in it until we got our energy all the way back up, and then we were able to get some stops and we pulled away to a nice little lead."
The Kingsmen went into halftime trailing 35-34, and they gave up a lot of easy points in the paint as the Sagehens shot 51 percent from the field.
However, the Kingsmen defense was able to step up in the second half and held the Sagehens to just 28 percent from the field.
"We made some adjustments, we went to more of a zone defense and forced them to stand," Rider said. "They run their offense very well, they are a good cutting team, and so we had to slow them down a bit, and it was effective. It allowed us to knock down some critical shots at the right time."
"We needed to come out strong [in the second half]. Sometimes we come out a little flat and it was nice tonight to come out strong and put them away early," Quintana said.
The win allowed the Kingsmen to come within two games of the second place Sagehens in the SCIAC standings.
"This was a key win tonight. This was very important for us to get this. Now we're back in it. We're where we need to be at this point," Rider said.
Junior forward Coltrane Powdrill played the most minutes for the Kingsmen Saturday night along with Smith.
"We want to win league. We know we got to beat the best teams like Pomona and Claremont, so we're shooting for them," Powdrill said.
The Kingsmen, who are now 16-4 overall and 7-4 in SCIAC, have five games left in their season, all league games, including their finale against first place Claremont-Mudd-Scripps on Saturday, Feb. 22.
Ramsey Abushala
Staff Writer
Published Feb. 5, 2014