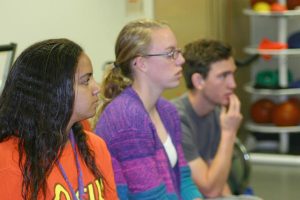 Athletics is a shared passion for many students, whether they are part of a sports team at California Lutheran University, play on an intramural league or enjoy a work-out at the Forrest Fitness Center.
A new club called the Fellowship of Christian Athletes, which was officially approved by ASCLUG on Dec. 2, is for students who are athletic as well as spiritual. The FCA is a nationwide organization that is present on both college and high school campuses throughout the U.S.
The club's president, freshman Kyle Schumacher, and freshman vice president Cody Jones are the founders of the FCA at CLU.
The two attended rival high schools, but became close friends as both were leaders of the FCA club at their high schools. When they both ended up at CLU, they decided to reinitiate the FCA.
Jones referred to the FCA mission statement when describing the club's goals on campus.
"To present to coaches and athletes, and all whom they influence, the challenge and adventure of receiving Jesus Christ as Savior and Lord, serving Him in their relationships and in the fellowship of the church," Jones said. "We recognize that athletes have an impact on others and we want to impact others through what we believe and what we were called to do."
Kecia Davis, the head athletic trainer at CLU, is the advisor for the club and has been involved with FCA for years.
"This is a club that encourages athletes, whether they are playing for CLU sports or not, to get together and hangout with people of like-mindedness and give them an opportunity to talk about the struggles that Christian athletes have," Davis said.
The FCA had a table set up at the Involvement Fair on  Jan. 30.  After visiting the table and learning about the FCA, sophomore water polo player Amanda Jones shared her thoughts about the club.
"It sounds like a really cool club and something that I think my coach would definitely encourage us to participate in," Amanda Jones said.
Over the years, many professional athletes have participated in the FCA by speaking about their Christian faith.
"We are going to try and get some pro baseball players, basketball players, football players and other athletes to come in and share their testimony," Cody Jones said.
Davis has quite a few contacts with professional athletes from her previous involvement with the FCA.  She said they are planning on bringing them in.
The details about where and when the club will meet are still being determined, but they  will incorporate music, food, Bible studies and guest speakers. Students do not have to be athletes or religious to join.
To find out more information about the FCA, visit fca.org.  For more information on the FCA at CLU, contact Schumacher or Cody Jones.
Lauren Ray
Staff Writer
Published Feb. 5, 2014