Cardio Mezzanine Machine Madness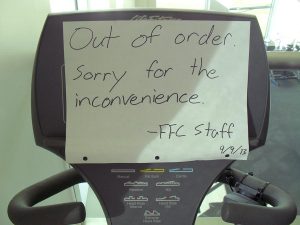 If you are a frequent user of the Forrest Fitness Center, you probably know what it is like to go upstairs, ready to get some cardio in, but find every machine taken and several that look open but are actually out of order.
Many students are bothered by the inconvenience of the out-of-service machines.
"I always run a mile or two at the gym on the treadmills, but sometimes I will hop on one and it will just stop. It stops, then the screen says server error or something," sophomore Stefan Ellis said.
"When I went upstairs to run, three or four treadmills wouldn't be working and then I would have to go back downstairs to ask someone to reset them before getting to start my workout," junior Illissa Mestas said.
Paul Hartmann, coordinator for recreational sports, oversees the fitness center and is in charge of ordering all gym equipment and calling in equipment repairs and maintenance.
"We have a maintenance contract with a company in Simi Valley called Skyfit. They come in quarterly to do routine maintenance checks and if there are problems in between those quarterly checks we call them to come in and fix the equipment," Hartmann said. "They could definitely be a lot better about it, we are actually looking into a new company because we have been having issues with this one."
According to Hartmann, one reason behind the frequent machine break-downs is the amount of traffic the machines see daily.
"The cardio equipment in here is by far the most used equipment, especially the treadmills, which shut off daily and it's not that they are broken, they just overheat and all we have to do is reset them and they are back to good use," Hartmann said.
Hartmann said the treadmills have only broken a couple of times, resulting in having to call Skyfit so they can fix them or replace a part.
Hartmann is now getting the staff involved in restarting the cardio machines by incorporating it into their training. This way they can check the machines when they are making their rounds and reset the ones that need it.
Until a more permanent solution arises,  if you want to use a treadmill but the available ones aren't working, ask a Forrest Fitness Center staff member to reset it.
Lauren Ray
Staff Writer
Published Feb. 12, 2014