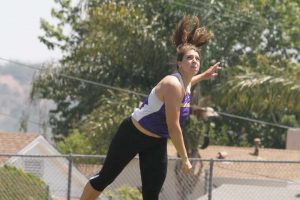 On the surface, Allie Hadley is a 20-year-old exercise science major at California Lutheran University. Just like other students, she goes to her classes, studies, does her homework and hangs out with friends.
However, Hadley is not exactly like other students.
She is an All-American javelin thrower because of her success in the 2013 Track & Field season.  Being that this was Hadley's first year of competing for the Regals, her accomplishments were nothing short of astonishing.
"I was always considered a pretty strong girl," Hadley said. "I played volleyball in high school, and so a lot of people said, 'hey you're doing track! And you play volleyball, why don't you go out and try and throw javelin?'"
Hadley initially chose to come to CLU because of its competitive volleyball team. After realizing her passion and talent for track, she decided to end her career as a volleyball player to pursue track full time.
"I came in originally playing volleyball, but I had a good season last year in track, so this year I decided to quit volleyball and I am just doing track," Hadley said.
Many were confused about her ending her volleyball career, but Hadley felt it was the best choice due to her potential in track.
"The main reason was that I had a great year in track, I qualified in nationals and was favored to do really well. After seeing how much potential I had with the sport, and in the event, I decided it would be really beneficial for me to train in the off season and really commit myself to javelin," Hadley said.
Hadley is almost certain that her volleyball career at CLU is over.
"Probably not [returning to volleyball], we've only had one meet so far this season, and I broke my personal best [record] from last season. I think that all the hard work that I put in the fall is starting to pay off, and I think will continue to pay off more so I think as opposed to if I were to still be playing volleyball," Hadley said.
CLU alumni Justin Puccinelli coaches Hadley and is quick to praise her talent and work ethic.
"She's a lot of fun to be around. She's extremely hardworking. She knows when she needs to be hardworking and when she needs to have fun," Puccinelli said. "She can flip the switch anytime and be serious. She's a lot of fun to work with. She's incredibly talented."
Hadley is not only praised for her work on the field, but off the field, as well. Hadley's peer adviser, junior Alexandria Ruggles, had nothing but nice comments to say about the athlete.
"Allie is so easy to get along with. She is always so positive and friendly," Ruggles said.
Hadley's mindset is simple. She just wants to continue growing and excelling in her craft.
"I just want to keep throwing far, you know? I don't have the school record yet. It would be really cool to have that. I need to throw about another foot and a half."
Puccinelli believes that Hadley has a rare gift and the potential to make it far in this extremely competitive sport.
"I say three national titles are not out of the question whatsoever. She will have the school record this year, no doubt, and over the next three years, she will get that to an unreachable level," Puccinelli said. "I 100 percent believe she can have a career after college. Whether she makes it to the Olympics, professionally or just plays for a club. I believe that she is one of the few athletes that can do it."
As for Hadley, she doesn't know exactly what will happen in the future, but is extremely focused on the present and accomplishing her current goals.
"The main goal is to eventually try and get to the Olympics. That's a long ways away, I'm just going to try and get through this season. But, I think that if I accomplish my goals this season, then there will hopefully be a good chance I could go for a career in this," Hadley said.
If Hadley maintains her great work ethic, seeing her in the Olympics may not be as far-fetched as it sounds.
Natalie Kalamdaryan
Staff Writer
Published Feb. 26, 2014