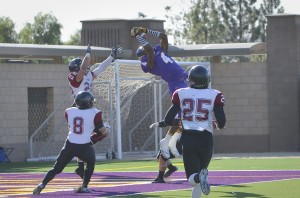 Eric Rogers has gone down in history as one of the most memorable football players to have played at California Lutheran University.
Rogers came from Charter Oak High School where he played three out of his four years as cornerback and wide receiver. Once at CLU, he continued his position as wide receiver.
In 2012 Rogers was CLU's career record-holder in yardage, receiving touchdowns and total scoring.
Last March, scouts from 11 different NFL teams came out to see Rogers at Pro Day held at William Rolland Stadium. The teams included the San Francisco 49ers, Green Bay Packers, Seattle Seahawks, Dallas Cowboys and more.  Following the NFL draft where he went undrafted, he spent the summer with the Dallas Cowboys during their four-month summer training camp as an undrafted free agent.
"The Cowboys are my favorite team, so it was cool that I was with them," Rogers said.
According to Rogers, a few CLU students came by to support and cheer him on during some of the practices.
"It was good to see familiar faces," Rogers said.
Over the years, Rogers has had quite a few coaches who worked with him on refining his skills and preparing him for football outside of CLU.
CLU's head football coach, Ben McEnroe, worked with Rogers while he was at CLU and saw him mature as a football player.
"I had the opportunity to see him grow up here, developing from a skinny, immature kid with a ton of athletic ability to possibly the most dominant football player in CLU history," McEnroe said.
After being released from the Cowboys, Rogers signed with the Portland Thunder, the newest team in the Arena Football League.
But before he could step on the turf of the Thunder, Rogers impressed the Ottawa Redblacks and signed to play for them starting in May.
The Redblacks are a part of the Canadian Football League, the highest level of Canadian football which sometimes acts as a feeder league into the NFL. It consists of nine teams from nine different cities.
There are a number of rules that are different to which Rogers will have to adjust.
Canadian teams use 12 players versus the 11 players used in the NFL. Their football field is also larger by 21 2/3 yards, not including their deeper end zones.
"It's a higher level of league up there with better competition than what I'm doing now [Arena Football], I'm just going to have to get used to all the new rules," Rogers said.
According to Rogers, the only downside to this new opportunity is that even if he is offered a spot on an NFL team, he is not allowed to back out of his contract with the Redblacks. He expects his contract to last two to three years.
Playing for the Redblacks will give Rogers a taste of what it is like to play for a professional team. If he does well, there is a chance he will be offered a contract with an NFL team. Regardless, Rogers is going to enjoy the experience up in Canada and students are wishing him the best.
"We are all rooting for Eric up there. It's about time someone represents CLU in professional football," senior Kiersten Humphries said.
Katy Sullivan
Staff Writer
Published March 5, 2014