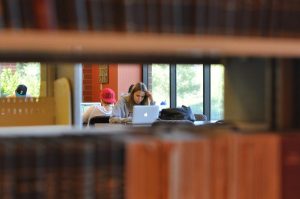 As spring midterms loom ever-nearer for college students across the U.S., so does the potential for stress and stress-related health issues.
Decreased sleep coupled with increased caffeine intake, poor nutrition and test-taking anxiety are just some of the stress-induced habits students fall into during exams. In fact, reports from the British Broadcasting Corporation state that students who stress over exams actually perform worse than those who do not.
Ashley Kurtz, a junior at California Lutheran University, voiced a complaint that many college students have regarding the role professors play in the stress cycle.
"I think professors overload students around midterms because they do not always take into consideration that students have other classes that they have midterms for," Kurtz said.
Senior Brittany Eremita echoes Kurtz's objection to the amount of effort that studying for a midterm requires and the relatively little concern some professors show for their students.
"I definitely think professors tend to overload students around midterms. In a few of my classes I have projects due and a midterm which doesn't seem fair because we should be putting the time and energy from the project into studying for our midterms," Eremita said.
Because of the added stress, Emerita also said she tends to "eat more sugar and drink more coffee to try and stay awake to study."
However, stress can also place students at risk for other self-destructive behaviors. According to a recent article in the Huffington Post, these factors can have much more serious consequences for students' overall mental and physical health. The article offers insight from an interview with junior Ben Greenberg of the University of California Berkeley, who said he has witnessed fellow students "experience depression due to the stresses of school…along with drug abuse."
Yet, Greenberg's statement doesn't just apply to his Berkeley peers. Students around the country are turning more frequently to study aids, particularly stimulants and prescription drugs, to help them focus on study material.
Concern for the abuse of prescription drugs has increased so much that Residence Life and Student Conduct Staff sent out a formal email addressing the issue.
"Please be aware that being in possession of someone else's prescription drugs (regardless of the type of medication), being in possession of expired prescription drugs that may have been prescribed to you but have since expired, or being in possession of prescription drugs without a valid prescription is against the law and that the Ventura County Sheriff's Department will take action if they are found in your possession," according to the email.
Surveys conducted by the National Institute on Drug Abuse list Adderall, a habit-forming amphetamine used to treat Attention Deficit Disorder and Attention Deficit Hyperactive Disorder, as one of the most commonly abused prescription drugs on college campuses.
Instances of the stimulant's abuse increase during exam times as a result of the added pressures students have to perform academically during these periods.
Even more alarming are the growing rates of stress-related student disappearances and suicides. Overwhelming academic stress was cited as a cause in the suicides of two University of Pennsylvania students this past February, according to the Huffington Post. In April of 2013, 22-year-old Paige Aiello, a student at The College of New Jersey, went missing as a result of academic pressure from school courses. Her body was found in the Hudson River that May according to NJ.com.
The email from Residence Life also urged students to contact Student Counseling Services at 805-493-3727 or Residence Life  at 805-493-3220 if they or anyone they know may be struggling with prescription drug abuse.
Allison Tade
Staff Writer
Published March 12, 2014