Study Abroad expands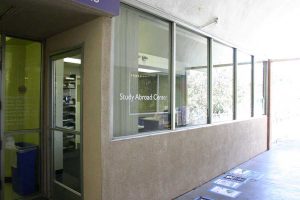 Do you want to go to Spain? How about Argentina? Or even down under in Australia? California Lutheran University's study abroad program offers many possibilities to students and has now expanded its offices so students can easily plan their academic adventures.
The Study Abroad Center and Career Services were both located next to the Dining Commons. Once Career Services moved its office to the Scandinavian Center, the Study Abroad Center decided it was a good opportunity to expand.
"Expanding our office was really an opportunity for us to better serve students at CLU since we have some more space for meeting with students and having conferences," said Katie Stevenson, the programs specialist for Study Abroad.
The program has grown every year and the idea of leaving the country for some of the year is becoming more popular.
"Over the past few years, our number of students who have been studying abroad and are interested in studying abroad has increased quite a bit," Stevenson said. "Every year, we're making new goals for increasing the number of students we send abroad."
The Study Abroad Center has been reorganized after the expansion.  It has made the new office next to the Dining Commons into an office for its student workers so that they discuss with other students about beginning a journey abroad. The original office across from the Dining Commons is used for the advisers and directors of Study Abroad.  In that office, the administrative staff can help students with more personal issues, such as financial aid.
"The new office is more of a reception area where you can turn in your supporting documents and if you have a quick question about study abroad, [the student workers] have info sessions," said Andrew Quan, senior global adviser for Study Abroad. "The original office across the hall is more for personal meetings about finance and a program they want to specifically talk about and usually the directors and advisers help students with that."
Freshman Victoria Butsky plans to study in Austria during the spring of 2015.
Although Butsky already had the intent of going abroad, talking to staff helped her realize that her desire can become a reality. Study Abroad workers went to her residence hall, Mount Clef,  and gave a presentation on studying abroad.
"Study Abroad hosted a meeting in the Plounge and they were handing out fliers and then I was able to ask them some more questions," Butsky said. "[The staff] has made it clear that study abroad is a very viable option and it will definitely be worth my while."
Butsky will now have a year to plan out her journey to Austria with the directors, advisers and student workers in the Study Abroad Center.   Butsky looks forward to visiting a country she is interested in.
"I am looking forward to so many things with going abroad and I hope to make tons of new friends and memories," Butsky said.
Ryan Perez
Staff Writer
Published March 12, 2014