CLU wins battle of Lutherans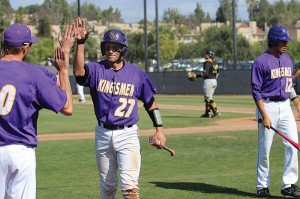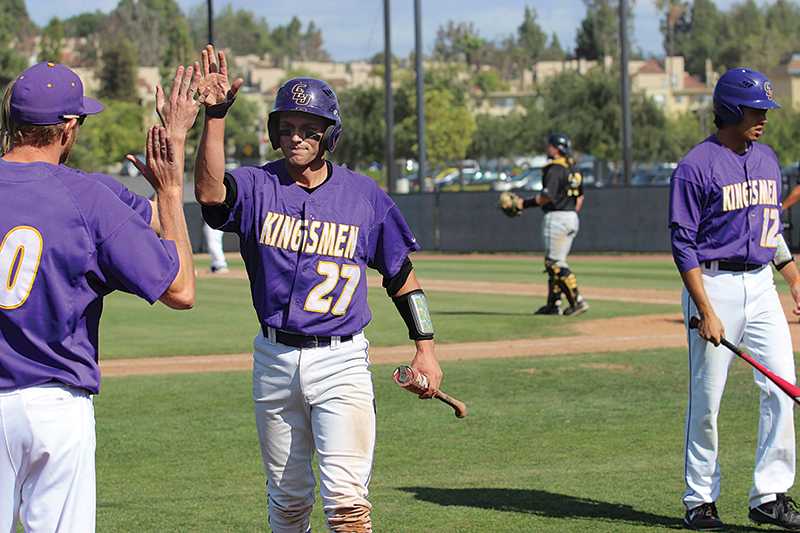 California Lutheran University Kingsmen baseball took on its sister school on March 7 when they hosted Pacific Lutheran University on George "Sparky" Anderson Field at Ullman Stadium, which resulted in a 3-0 win for CLU.
"PLU's pitcher is one of the best we've seen, but the highlight of the game for me was Scotty P's performance," said junior catcher Spencer DuBois.
Sophomore starting pitcher Scott Peters, or Scotty P, faced added pressure in playing PLU due to the university being his parents' alma mater and the impressive talent of their pitcher, Trevor Lubking.
"It's always good to win a game, but that was one of the better pitchers in the west region, so to win against him meant a lot to keep the score low," Peters said.
Peters did not let his counter part deter him from pitching impressively, keeping the PLU Lutes hitless through 5.2 innings. He finished the day tossing seven scoreless innings.
"I kept the ball down, mixed it up, changed speeds and didn't give them anything good to hit," Peters said.
DuBois not only helped Peters earn his fourth victory of the season as his battery mate, he also helped offensively. DuBois went 3-3 with an RBI and scored what would be the game-winning run in the fourth inning.
PLU is located in Tacoma, Wash. and is a member of the Northwest Conference. This isn't the first non-conference game CLU has played and it always presents a similar challenge.
"Not knowing a lot about them was definitely a struggle in playing this team. When you play a team in your conference, you get a scatter report on them so when playing a team out of conference, you're never really sure what you're walking into," said Kyle Sanchez, sophomore infielder for the Kingsmen.
"It's always a good test, regionally, in the west region to see how we stack up against other teams that we don't usually see," Peters said.
Despite the challenge that came from playing a non-conference team, CLU stepped up to the plate and successfully shutout PLU.
"It's a good win and it puts us in a really good spot. We got a fantastic pitching performance from Scott Peters and we produced the plays we needed to," Sanchez said. "It was a good, solid, technically played game and we did what we needed to do."
As the team moves forward, it plans to use this win to its advantage and continue pursuing more victories with teams in and out of its conference.
"I think we can learn a lot from this game. We're going to use this game as momentum to keep rolling forward and to try to pick up another series sweep next week," Peters said.
Following the PLU game, CLU went on to sweep the series against the Caltech Beavers 17-4, 17-3 and 13-0 improving its conference record to 12-3. The Kingsmen now find themselves atop the SCIAC with the Whittier Poets.
CLU will host Claremont-Mudd-Scripps on April 4 at 3 p.m. in Ullman Stadium.
Monica Linares
Staff Writer
Published April 2, 2014