Regals silenced by the Bulldogs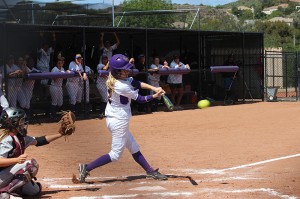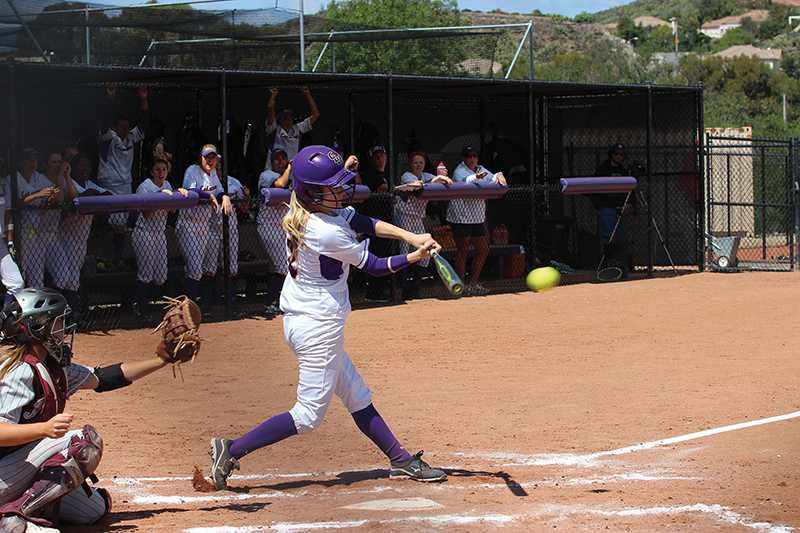 It was a tough day on the diamond for the Regals as they dropped a pair of conference games to the University of Redlands Bulldogs on March 30.
Junior Shonna Christianson did her best in the pitching circle to keep the Bulldogs at bay in game one.  The Regals trailed just two runs in the top of the fourth until senior Bulldog Kristen Hooper laid down a sacrifice bunt, bringing in two runs. Senior Amanda Lievanos then blasted a deep home run to center field, tacking on two more runs for the visiting Bulldogs.
After Redlands pushed its lead to 8-0 in the top of the fifth, the Regals tried for one final push as Christianson and seniors Katelyn Downing and Kayla Sakamoto each singled to load the bases with two outs.  However the game came to an end when sophomore Blake Lewis grounded out for the final out of the game.
"The speed was not quite what we were used to, so we got a little over anxious in the first game, but I thought we made some great adjustments.  We hit some pitches really hard, but unfortunately, they were right at people," said Head Coach Debby Day.
Game two was almost identical to game one as the Regals continued to try and figure out Bulldog pitcher Kaitlyn Hooper, who remained in the circle.
In the bottom of the third, the Regals trailed 0-2 just like the first game and they once again loaded the bases with Christianson, Downing and Sakamoto, this time with no outs. They again were unable to bring them home as a couple of ground outs and a double play ended the inning.
"We just had a really hard time adjusting to the pitching.  That really set us back," Downing said.  "[Hooper] just makes the motion and speed on her pitches work to her advantage and we were helping her out by swinging at her low pitches."
The Bulldogs brought a Thousand Oaks native, Vicki King, to the plate in the top of the fourth with two outs.  The Westlake High School graduate lifted a three-run homer into center field to give the Bulldogs a 7-0 lead.
"They were ready for anything up there, turning on anything, taking the pitch any direction.  They are really well disciplined hitters and they're not up there to get walked, they're up there to find a way on base and they did," Downing said.
The Bulldogs went on to score a run in the fifth to give them their second mercy rule victory of the afternoon.
"Redlands is the first place team.  They haven't lost a game in conference yet, there's a reason.  They're a complete package and we have to fine tune a few things to be ready for them in a few weeks," Day said.
Despite the losses, the Regals are focused on what needs to be done to finish the season strong.
"We just have to take it one day at a time and win the games that we have to win.  We have La Verne coming up next weekend and we need those games so that's what we're looking at right now," said junior third baseman Liz Mertel.  "There's room for us to learn here and if we keep doing what we're doing and working hard, we'll be fine."
Jase Magarifuji
Staff Writer
Published April 2, 2014