New kid on the block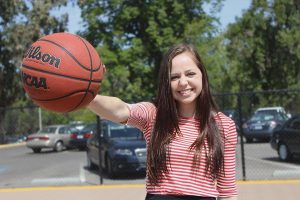 Look out for #4 on the basketball court next season as freshman Jessica Salottolo is the latest West Region Rookie of the Year. According to Regals Head Coach Lindsay Goldblatt, the West Region is primarily made up of California, Oregon and Washington.
Both Salottolo and Goldblatt were shocked, but very happy after hearing the news.
"She had a really strong year with really good numbers and played really well. We were pleasantly surprised that she was being rewarded for having such a great year. She's a great person and she works extremely hard. It's nice to have something to show for all the hard work she puts into all her games," Goldblatt said.
CLU's Sports Information Director Tracy Maple is one of the committee members who nominates and votes on the winners.
According to Maple, at the end of each season the coaches from the schools in the SCIAC get together to nominate and select All-SCIAC teams from the conference athletes.
"It all started with the league; if you're not nominated and selected by the conference coaches, then you're not eligible to be nominated for the regional award. That was the first step, then from there she was selected by the regional committee, which is made up of sports information directors from the 48 member schools in the West Region who vote for the teams," Maple said.
According to a release on the CLUsports.com website, Salottolo is the team's point guard who averaged 11.9 points per game, converting 40.9 percent of her shots from the floor and was also a three-point shooting threat for the Regals. She led the SCIAC in three-point field goal percentage at 40.0 percent, shooting 30-75 on the season.
The award was a surprise to everyone; even Salottolo didn't know what it was at first. Salottolo said how she was unaware that the All-West Region Rookie of the Year award even existed.
"Winning Rookie of the Year was an outcome I did not expect or even know of. It is extremely honoring to be able to win an award like this at such a young age and only playing college ball for one year," Salottolo said.
Salottolo said that being a basketball player requires a lot of commitment and hard work. Her daily routine includes hours and hours in the gym. She treats offseason like a regular season and strives to make improvements by practicing as much as she can.
Salottolo said that after watching a Lakers game when she was young, she decided that she wanted to be just like Kobe Bryant.
"I love the bonds that this sport helps you form. If you want your team to be the best, then you have to be willing to do anything to achieve that goal. That is my mindset," Salottolo said.
CLU finished the 2013-14 season with a 13-13 overall recorded and was eliminated in the semifinals of the SCIAC tournament. Losing only one player to graduation, look for Salottolo and the Regals to come back strong and push for a SCIAC championship.
Dalee Jung
Staff Writer
Published April 2, 2014