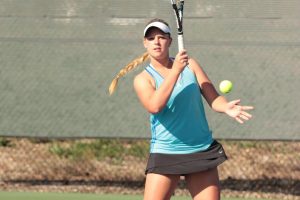 The California Lutheran University Regals tennis team faced Claremont-Mudd-Scripps on April 4 at CLU's Poulson Tennis Center, resulting in an 8-1 loss. The CLU Regals gave a good fight despite CMS being ranked No. 5 in the nation among Division III universities.
The CMS Athenas started out strong by sweeping all three doubles matches. Athenas' Caroline Ward and Katie Kuosman defeated Daria Karakoulka and Shelby Kubota 8-1, while Sarah Kukino and Chloe Dobbert defeated Katie Carroll and Rebecca Gold 8-0.
"They have a really good lineup. Their girls are very talented and just staying in each point was so long and so tiring that it was just difficult staying in each point for the whole match. Powering through was the hardest part," said freshman Gold.
Regals Kari Ayres and Lindsay Murphy paired up for the first time this season to play the No. 3 doubles and were able to hold a lead until losing 8-2.
"I think it's always a challenge playing the better teams but I think our girls, especially the younger girls, are starting to see how big of a challenge it is and they're starting to rise to that challenge," said Chad Colby, Regals' assistant coach.
Freshman Dana Raugust proved that to be true when she got the Regals on the board when she won 6-0 and 6-2 in the No. 6 singles match.
"They did a good job today of continuing to do the little things and we keep seeing improvement with such a young team," Colby said.
Junior Sarah Baker started out strong in her No. 4 singles match as she took the lead 7-5. Baker, however, could not keep the lead and opponent Victoria Nichols won the next set 6-2 and the tiebreaker 10-3.
"The main focus was being really consistent, hardly making any errors and moving my opponent back and forth so that she would make the errors, but they're a really good school. They're really consistent, so trying to keep the ball in play and staying at their level is difficult," Baker said.
Murphy experienced a similar fate as Baker when she won the second set 6-3 after losing the first 3-6. However, Murphy could not secure the win and lost the tiebreaker 10-6.
Despite the loss, Baker believes that the match was yet another learning experience for the team.
"I believe that we did build our consistency through this match and we learned to be patient," Baker said.
"Our main focus was to stay positive and just leave it all on the court and I think we did that. Every girl competed so hard and I'm just proud of us," Gold said.
Colby intends to learn from their defeat against CMS.
"From this match going forward, I would like to continue getting better at the little things and hopefully when we play the teams that are a little more on our level, they will respond and the experience they have in playing these better teams will pay off," Colby said.
Monica Linares
Staff Writer
Published April 9, 2014