All eyes on us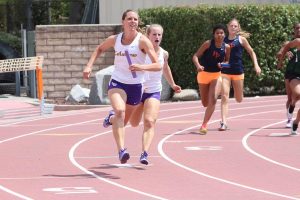 With the SCIAC Championships just around the corner, the Regals are the team to beat. California Lutheran University's women's track and field team has gone undefeated this season, and according to head coach Matt Lea, it is favored to win the championship, too.
Over the course of the season, the team has competed against every conference team. At its most recent meet, it faced the last of these opponents, emerging victorious over the previously undefeated University of La Verne.
Senior Lauren Rohach, one of the team's captains, said its success during the season has put it in a strong position going into the championships.
"It's really exciting to go into SCIAC championships undefeated," Rohach said. "It definitely takes some pressure off of the championships and allows us to enjoy it a little more, but also really gets us geared to win that championship."
Two years ago, the team also went into SCIAC championships undefeated, but emerged co-champions. Rohach said it would be "really great for all those seniors, and people who got to experience that, to take home the full title this year."
However, the team's ambitions do not stop at SCIAC. Lea said he thinks the team will be successful at the national championships as well.
"We have numerous individuals that have qualified for the national championships, more than we've ever had in the history of our school," Lea said. "I think we have a big chance to make a push at a top five finish at the national meet."
Reaching that point has not been easy, however. Lea said the team's strength this season has been the result of hard work and dedication.
"They put a lot of pressure on their bodies," Lea said. "It's a lot of work to go out there and do what they do every single day."
Practices vary by event, but sophomore Allie Hadley said that everyone spends between 10-12 hours training per week.
The team's undefeated season was not due to practice alone. Hadley said another reason for the team's success was the team captains' strength as role models.
"We've had amazing team leadership," Hadley said. "They've really set the tone and the standard of what we need to reach."
According to Lea, it was not just the captains who made valuable contributions this year.
"Every meet brings out something a little bit different in each athlete," Lea said. "That's kind of the best part about the team is that there's someone new or a few different new people each week that kind of help bring the best out of the team."
Rohach said the diversity of the team members' individual abilities has been another major factor in its victories.
"We're so diverse and so strong in each aspect this year," Rohach said. "That's really helping with our success over teams who, you know, may have an upper hand in sprints, but we've got distance girls and throwers that make up for points there."
Each team member brings unique strengths, but they also bring tremendous support for each other, according to Rohach.
"In between your races, even if you're dog-tired, you are yelling for your teammates coming around the track," Rohach said. "For it being such an individual sport, it really does become very much team-oriented at meets when everyone is there together and you're pushing each other."
In addition to the success of the team as a whole, the season brought individual success. Most of the girls set personal records, according to Lea. He said so fa, there have been at least 20 personal records and four or five school records this season.
Nerissa Cauthen
Staff Writer
Published April 30, 2014