One thousand cranes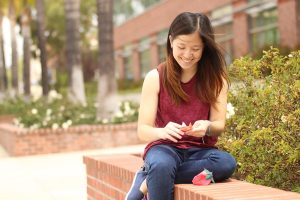 According to Japanese lore, folding 1,000 origami cranes is done when someone has a wish, whether it is for peace, health or luck.
If you could have only one wish in this world, what would it be?
Sophomore Eve Ngo's wish was to be released from the hospital and have a successful recovery after receiving a bone marrow transplant and undergoing chemotherapy in the summer of 2003. Ngo was diagnosed with thalassemia, a blood disorder, as a baby. Her father would visit her at night at the hospital while her mother took care of her in the morning and afternoon.  Ngo's father taught her how to fold an origami crane and told her the story that if they folded 1,000 cranes, she would get to make a wish.
Ngo and her father never completed the 1,000 cranes because her wish was granted and she was released from the hospital in mid-August.
"I'm thankful to the bone marrow transplant team at Children's Hospital of Los Angeles because without them and the support of my family and friends, I wouldn't be here today. I look at life with a more positive attitude as though I have a purpose for being able to walk on this earth today," Ngo said.
Stemming from her experience, Ngo came up with the idea of an origami club at California Lutheran University. The Origami Master's Group, better known as O.M.G., was approved for the 2013-2014 academic school year.
"Origami means hope. It provides happiness to those who are interested in learning and to those who come across an origami piece. Every time I make a crane or a strawberry and give it to someone, it lights up their face," Ngo said. "When I first learned how to make a crane at CHLA, I just thought that there is hope for a better future and that I will survive the chemotherapy and bone marrow transplant. I didn't feel alone."
O.M.G. was created on the principle of teaching the art of paper folding to any interested students. Ngo has taught students how to fold cranes, strawberries boxes, ornaments and octopi.
"What impresses me about Eve is that she is a humble person who is service based. She is a remarkable woman with a true humanitarian spirit," said Larkin Higgins, art professor and adviser for O.M.G. "She displays a sincere form of dedication with every project she initiates."
O.M.G. organized a project to make 1,000 cranes to send to an orphanage in Los Angeles to pass on good fortune and to provide wishes to children in need.
"Eve is quiet but stands up for what she believes in. She is welcoming to everyone and is extremely friendly," said senior O.M.G. member Amanda Escalante. "She listens to those around her and makes decisions that are best for everyone. She is a very passionate and inspirational person to be around."
On top of her duties in O.M.G., Ngo is also the president of the Circle K International club.
Circle K's purpose is to develop leadership, diversity, responsibility and citizenship. The club promotes relationships with fellow colleagues, serving throughout campus and local communities.
"I became the President of CKI when I started the chartering process in fall 2012," Ngo said. "CKI at CLU did not get chartered until November 2013 because it took me awhile to find officers, a sponsoring Kiwanis club and Kiwanis adviser, a CLU faculty adviser and interested students to sign the petition to charter."
Ngo contacted the Kiwanis Club in Thousand Oaks, Calif. looking for its support and an adviser. The Kiwanis Club is a global organization of volunteers dedicated to changing the world, one community and one child at a time. Roy Talley was the first member of the Kiwanis Club to volunteer to help CKI. Talley is not only the CLU CKI adviser, but also the assistant region adviser for the central coast division of California Nevada Hawaii District of CKI.
"Eve is very tenacious. It took us awhile to get the Circle K going. Never once did she want to quit," Talley said. "Besides Circle K, Eve is involved in many activities. Especially in areas where she is helping others."
Ngo has never let any setback stop her from pursuing her vision of having a Circle K at CLU. After being involved in Key Club, which is very similar to CKI, during high school, she was determined to bring service, leadership and fellowship through Circle K to CLU.
"To be able to teach other students origami means to put the skills of the art of paper folding into someone else's hand. Why keep it to myself when I can share how much hope and happiness origami brings?" Ngo said.
From making magical, wish-granting cranes to furthering a sense of community at CLU, it seems like there isn't anything that Ngo can't – or won't – do to help others.
"Eve is an outstanding leader. She has a vision and works hard to share the vision with others and convince them to join her," Talley said. "She is surprisingly reserved for such a young lady that is so driven. She is never overbearing, yet always in control. She proves you don't have to be extremely outgoing to be a leader. She is truly an exceptional young woman."
Drew Thomas
Staff Writer
Published April 30, 2014