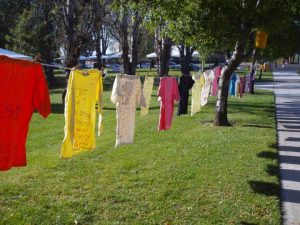 Take Back the Night, an event to raise awareness about domestic and sexual violence, will take place May 1 at 6 p.m. in Kingsmen Park.
The event is run by student organizations Feminism Is…and the Black Student Union. In previous years, Feminism Is…ran the event by themselves, but this year's theme of family and domestic violence led to the collaboration with BSU.
"They came to us and they wanted to bring a different light to the theme this year. In the minority community there is a higher rate of family and domestic violence, so knowing that, BSU wanted to take part in this collaboration," said BSU president junior Andrew Atakpo.
According to takebackthenight.org, the Take Back the Night foundation was created in 1999. However, the first Take Back the Night rallies and marches date back to the 1970s. The event has spread from U.S. cities, like San Francisco and Philadelphia, to countries around the world, such as Belgium.
"[Take Back the Night] is now an international movement. It promotes awareness about violence against women, but even more than awareness, it encourages action to stop the violence," said Peter Carlson, religion professor and faculty adviser for Feminism Is…
Carlson said that events like Take Back the Night help initiate a needed change in our society.
"We live in a culture that says men can satisfy their sexual desires at the expense of women and that if a woman doesn't actively say no, then she's saying yes… Part of that culture then, is the extraordinary ability we still seem to have as a culture to blame the victim. There's this willingness to blame women for being raped. This becomes a really important aspect of Take Back the Night," Carlson said.
Activities will include guest speaker California Lutheran University graduate student Fortunate Hove, students speaking about their past experiences with domestic or sexual violence in their own or loved one's lives and performances by various students at CLU. In addition to the activities, the first 50 attendees will receive a tank top from Feminism Is…and BSU.
Take Back the Night will run in concurrence with the Clothesline Project, which is also aimed at raising awareness for sexual violence.
According to clotheslineproject.org, the Clothesline Project is a vehicle for women affected by violence to express their emotions by decorating a shirt. They then hang the shirt on a clothesline to be viewed by others as testimony to the problem of violence against women.
The Clothesline Project will set up at 7:30 a.m. around Kingsmen Park and Regals Way, featuring T-shirts made by CLU students as well as T-shirts sent in from the Clothesline Project foundation.
"It's just really interesting to go and look at everything that [was written] from first-hand knowledge because I don't have first-hand-knowledge in terms of violence in that way. It's just really moving to see what people have gone through, or the people who are stepping up for other people," said senior and Feminism Is…treasurer Kacy Cashatt.
Both events will be held together with hopes to raise awareness toward domestic violence and violence against women. However, the ultimate goal is to eradicate these types of violence and promote gender equality.
"It's really easy for us to assume that women have achieved equality, that violence against women is no longer violence against women it's just violence and that we now live in a world where women are equal. And the reality is that women are still not equal in any way…women are consistently the victims of gendered and sexual violence, far more than men. What we cannot afford is to assume that we have somehow dealt with the problem. Take Back the Night keeps the conversation going," Carlson said.
Ramsey Abushahla
Staff Writer
Published April 30, 2014