On Saturday, Sept. 27 California Lutheran University held its annual Service Day for Ventura County.
For the sixth consecutive year students and faculty participated in various community service projects on campus and county wide. Throughout the day there were 11 opportunities to get involved.
Cal Lutheran explains in its missions statement that it is a strong supporter of getting involved and bettering communities. Service Day has become an annual event to encourage students, faculty and alumni to give back to the school and the community by offering events both on and off campus.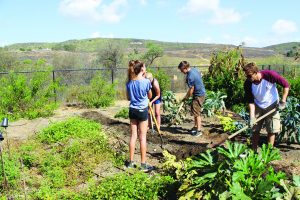 Knowing that students don't always have transportation, Cal Lutheran works with the students to set up carpools and offer events on campus for easier participation.
"CLU is really about service," said senior Brianna Duddy, intern at Homelessness and Poverty in the Community Service Center, "It's in our missions statement so we really like to incorporate that into daily activities."
Duddy and her coworker, sophomore Victoria Butsky, a Youth and Education intern at the Community Service Center, have both participated in Service Day and various community service events throughout the year. Duddy and Butsky said they believe it is not only a good representation of Cal Lutheran but also of themselves. Though they agree that it looks good on applications and resumes, they really believe its best benefit is how "self-fulfilling" they feel after helping those who need it.
"[Service Day] is a good way to just kind of get out of your 'bubble' and to get out of the routine of school, work, hanging out with friends and just do something different for a change," Butsky said.
Butsky and Duddy said the Community Service Center tries to raise awareness about not only Service Day but also community service events year round by posting flyers. They also rely on word of mouth to get students involved. They hope students will get together with their friends and have good experiences so that more and more students get involved every year.
The events and locations for Service Day are chosen annually by the Community Service Center to represent not only areas that are in need, but also by what they feel Cal Lutheran students would want to participate in, according to Butsky and Duddy.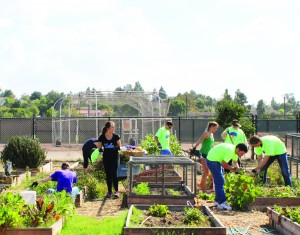 Butsky and Duddy said there are community service events annually to encourage student involvement, but Service Day is a specific day in the year that they devote to the whole community.
"[Service Day] is a good way for me to give back to my school and my community here," said senior Carla De Lira, participant in four consecutive years of Service Day.
"You're always going to have people in your life trying to help you out so if you want to make a difference in the world, you kind of need to give back to your community," De Lira said.
De Lira said that because Cal Lutheran and her mentors have done so much for her over the four years she has been a student, she feels that the least she could do is participate in events on campus. She switches between the SEEd project and the Chapel project every year, choosing those that have gardening elements as her source of solace during the school year.
Although 2014's Service Day has passed, Cal Lutheran encourages all of its students and faculty to get involved by offering resources to connect with community service events year round.
For more information on how to get involved or to suggest an event of your own, visit the Community Service Center's page on the Cal Lutheran website.
Sydney Dawn
Staff Writer
Published October 1, 2014