If you are bending over backwards trying to fit an unpaid internship into your otherwise jam-packed schedule, you might want to take a moment to re-evaluate that internship.
Many believe an unpaid internship is a great start to a future career, a way to make connections and get a foot in the door. Director of Career Services at California Lutheran University Cindy Lewis, falls into this group of people.
"I see some talk about making sure there's no unpaid internships, and that's just going to hurt students," Lewis said.
She said that without unpaid internships students will be unable to build their resume, and gain experience.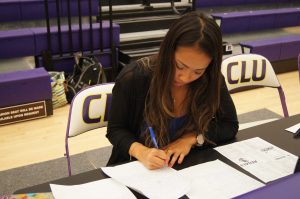 Certainly some students benefit from their unpaid internship, but the National Association of Colleges and Employers did a study of 2013 graduates showing that the students were much more likely to be offered a job if they had a paid internship. Sixty-three percent of students with a paid internship were offered a job, whereas only 37 percent of students who had only unpaid internships received a job offer upon graduation. This is only two percent below the job offers students received if they had no internships throughout their college career.
SAGE Publications, a local employer of both Cal Lutheran interns and graduates, is one of the few gems that pays its interns. Kassie Graves, an acquisitions editor and a supervisor of the interns in her department, believes interns should always be paid.
"I feel that no matter what type of work is being done, you should get paid for it, and I think it's taking advantage of students in a vulnerable position, where they are really trying to establish themselves in their career and are willing to do this work unpaid just to get something on their resume," Graves said.
Unfortunately we live in a very competitive world, and many industries, like entertainment or fashion, are so competitive and popular that students are willing to work for nothing to get that label on their resume.
Trianna Owen, a sophomore communication major with an unpaid sports information internship at Cal Lutheran, said she hopes this internship will help her become a sports reporter. This internship involves going to all the volleyball games, recording what happens during the game, interviewing the players and writing highlight reports after each game.
"It's a lot of work, but I like it," Owen said. However, she said she has also questioned as to whether the internship is worth the effort.
"This past weekend I thought it was a little unfair that I wasn't getting paid, cause I like do more than the people that work there and do get paid," Owen said.
According to Owen, over the weekend she worked at least three more hours than the employees who worked solely during the games.
Lately there has been a lot of buzz concerning the legality of unpaid internships, and new regulations have been created to prevent companies from the exploitation of interns. For example, when employers post unpaid internships on Cal Lutheran's Career Services website, a document titled "Internship Programs Under the Fair Labor Standards Act" pops up.
This documents spells out all the requirements that the company must meet in order to be qualified to have an unpaid intern. Among other requirements, the document states that the internship must have educational training, and the intern cannot take the place of a regular employee.
It is wonderful that new regulations are being developed, but do these rules make it fair that many interns are still unpaid? Of course not. In an ideal world, we would all be paid, but unfortunately, most of us do not have the luxury of the surreal paid internship. Instead we're stuck with an empty wallet, and frown lines from spending money on gas to get to the unpaid internship with no foreseeable monetary reward.
By all means if you love your unpaid internship and you think it's beneficial, continue on. But don't you think that a paid version of your unpaid internship would be even better? So, the next time you think about applying to an unpaid internship, apply to five more paid ones first. Although more difficult to find and even harder to receive, it will be worth it in the end.
Julie Griffin
Published October 1, 2014