Regals snag first conference win
Regals Soccer
After losses in their first two conference games, the Regals picked up a win and tie in their first two SCIAC home games.
The Regals soccer team went 1-0-1 in a two game homestand with games on Wednesday, Sept. 24 and Saturday, Sept. 27.
The first game of the week was against conference rival University of Redlands. The Regals were able to pick up their first conference win of the season thanks to an own goal by Bulldogs defender Sam Keary in the 54th minute.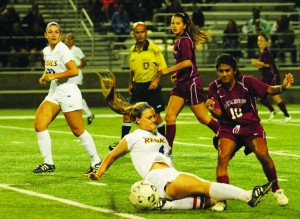 According to CLUsports.com, junior forward Bianca Deardorff attempted a cross to a Cal Lutheran teammate, when Keary stepped in to clear the ball and deflected it into the Bulldogs' goal.
The Regals defense was able to hold Redlands scoreless, thanks in part to a solid game by senior goalie Kiki Bailey.
Cal Lutheran was able to hit three out of their four shots on goal, while Redlands shot four out of their eight shots on target.
Senior midfielder Alli Calabrese and junior defender Jenna Malinowski had one shot on goal apiece for the Regals.
In the their second game of the week, the Regals managed to hold a tied 1-1 score against first place conference opponent, Pomona Pitzer, in double overtime on Saturday, Sept. 27.
Head coach Frank Marino said that at the end of the day, he was pleased with the way the team played, even though he would like to see a win.
"Considering they are one of the top teams in the league, we are OK with the result… obviously you want to close it out and win the game, but I thought overall we played a great game today," Marino said.
Cal Lutheran fans seemed to feel the same way, as many of them stayed almost three hours as the team fought through a first overtime, and then double overtime.
The Regals began the game with a goal by freshman midfielder Kali Youngdahl. Marino later applauded Youngdahl's relisience throughout the game.
At the end of the second overtime, Youngdahl suffered a hard kick to her calf, but she stayed in the game even while limping, and played through the pain.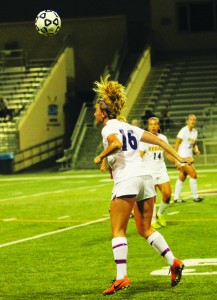 "[A member of the opposing team] kicked the back of my calf and I felt my muscle just tighten up, it was so hard to walk," Youngdahl said.
Youngdahl said she needed to play through the pain when she saw that there was just over a minute left in double overtime with Pomona-Pitzer trying to score.
"I looked at the clock and there was 1:30 left and I heard from the sideline 'You're a warrior, Kali'…so I just pushed through the last minute," Youngdahl said.
In the second half, Pomona Pitzer's Abby Onderwyzer-Gold was able to get a shot past Cal Lutheran goalkeeper Bailey.
Bailey turned out to be a main component in Saturday night's game, as she had five total saves. Each time the Sagehens managed to get the ball close to the Cal Lutheran goal, a resounding warning, "Keeks!," could be heard coming from her teammates. The team worked hard to make Bailey's job as easy as possible. Bailey saved a crucial shot from the Sagehens with only one minute left in overtime, which would have ended the game.
Youngdahl said she felt freshness was what kept the team playing well Saturday night.
"We pushed it until the end, there weren't moments where we let down. We pushed through the whole game," she said. Youngdahl also said she was happy with how the team worked hard throughout the long game.
"I thought our back four, Olivia Leyva, Mallory Carcich, Jenna Malinowski, and Alli Calabrese did a great job defending for the game… I thought forward play was some of the best we've gotten all year and I thought Kali [Youngdahl] had a good game, and Bianca Deardorff had a good game," Marino said.
Sophomore forward Bianca Deardorff said the strengths in Saturday's game outweighed the weaknesses.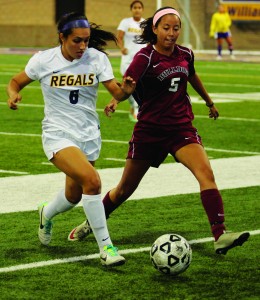 "First half, we connected really well… getting the ball wide and using the lines before we crossed it in, we kind of opened up the field that way," Deardorff said.
Deardorff said she thought Saturday's game was a progression forward since previous games.
"[A tie] is better than a loss, they're one of the best teams so it means that we're doing what we're supposed to be doing, and hopefully we'll get that win next game," Deardorff said.
The women's soccer team will try for its second conference win on Wednesday, Oct. 1, when it plays Whittier at home, in Rolland Stadium at 7 p.m.
Rachel Maurer
Staff Writer
Published October 1, 2014