Founding father of CLU football is being recognized
California Lutheran University is adding a bronze statue outside of William Rolland Stadium. The statue being built is in recognition of National Association of Intercollegiate Athletics Hall of Fame coach and founding father of Cal Lutheran's football program, Head Coach Bob Shoup. The statue is memorializing the championship year in 1971 and capturing the quintessential image of Shoup being carried off the field by his players.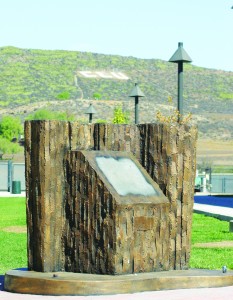 "It is a great honor for our football family to have this as a way to memorialize this championship year. It was the pivotal event in the history of Cal Lutheran." Shoup said.
When Shoup was the coach the college was facing bankruptcy. He said that it brought him joy to see the team turning things around. Two months after the conclusion of the season, the Dallas Cowboys, who practiced at Cal Lutheran in the summer, went on to win the Superbowl.
"In sports you talk about a change in momentum. That was the 1971-72 era," Shoup said.
Shoup coached the then Cal Lutheran College football team from 1962-1989 where he racked up 184 wins and a .662 winning percentage. Out of his 28 seasons at Cal Lutheran, Shoup only had seven losing seasons making him 21-28 overall, according to CLU Magazine.
"Coach Shoup was an excellent motivator and had a great feel for what it took to beat an opponent," said Scott Beattie, former player for Shoup and current defensive coordinator and defensive backs coach for Cal Lutheran football.
In those 28 seasons, Cal Lutheran made five playoff appearances in 1971, 1975, 1977, 1979 and 1982.
In 1971 Shoup led the Cal Lutheran football team to the NAIA Division II National Championship, defeating Westminster College 30-14. Shoup led them to the national championship in the 1975 and 1977 season but came up short.
When all was said and done Shoup collected 14 NAIA District III titles in 17 years and his football teams were listed in the top 10 as having the most wins over the last 50 years with a 182-81-6 record.
Shoup discovered and paved the way for Cal Lutheran football, which is why he has been named the founding father of the football program.
"His fingerprints are all over the program. He was the first head coach here, he started the program from the ground up basically doing it by himself," said Ben McEnroe, head coach for the Cal Lutheran football team. "Anytime you have somebody that started an intercollegiate athletic program like that, they have a huge impact on the program. We are very blessed that he is with us and he's around and he's a part of the program to help carry out that tradition and that legacy."
Not only was Shoup an excellent head coach, he was also a great motivator to his players, a mentor to both players and coaches and also a great man within the community.
"The impact Coach Shoup had on me goes beyond my career at CLC. My scholarship had been revoked from the University of Nevada after tearing my ACL and I was searching for a school to continue playing. I was somewhat lost," Beattie said. "Without the second chance that Coach Shoup gave me who knows how things would have turned out. As it was, my CLC experience and Coach Shoup's leadership got me back on track in life. I owe him a tremendous debt of gratitude."
Every summer during football camp Shoup comes in to talk to the players and coaches sharing his story of when he coached at Cal Lutheran and also sharing life lessons.
"I think the best example that Coach Shoup has said and left that had the most impact on me is just as a man. He's just a good man. He's a good strong Christian man," McEnroe said. "He's a good example of a Christian role model, of a father figure, a good husband, so those are the ways Coach Shoup has impacted me and I feel really fortunate to have been able to spend the time with him for the last seven or eight years,"
Construction of the statue dedicated to Shoup and Cal Lutheran's championship football season has begun. If you are looking to show your support to Cal Lutheran Athletics and honor Shoup, you can purchase a commemorative brick that will be placed at the base of the sculpture.
Randall Shumpert
Staff Writer
Published October 8, 2014