Students, alumni, faculty and family members gathered last weekend for athletic events, activities and reunions during the annual homecoming weekend at California Lutheran University.
The weekend was filled with events, beginning Friday with open classes all day. Alumni were invited to sit in on classes and see what had changed or remained the same since they were in college.
There were also campus tours in which alumni saw new buildings such as the Ullman Commons and Starbucks.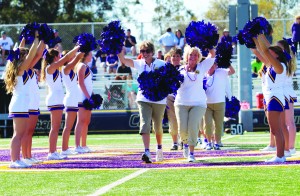 "I got to go to CLU Starbucks for the first time. My friends and I always talked about wanting a Starbucks on campus when we were at CLU," Hayley Tamagni, Class of 2013 said.
Alumni also visited the Kwan Fong Gallery of Art and Culture, Founder's Day Convocation in the chapel, the alumni and friends golf classic, the homecoming family reunion and the symphony Founder's Day concert on Friday.
It was a standing room only in Samuelson Chapel for the Founder's Day Convocation on Friday morning, where a number of people spoke, sang and praised all of the hard work that has kept Cal Lutheran running well for many years.
University President Chris Kimball awarded alumnus Frank Nausin, Class of 1976, the Christus award. Kimball said that since Nausin donated to Cal Lutheran for the first time, every time after that has been a simple "yes" without question. Nausin confirmed this in his speech acknowledging the acceptance of the Christus award, which he said was a great honor.
On Saturday, alumni had some hard choices to make as there were many events taking place on campus. To start off the day, Cal Lutheran hosted the Loop da Lu 5k run at Kingsmen park.
After the Loop da Lu 5k run, Ullman Commons opened its doors, providing tours and offering a chance for people to get a taste of the new cafeteria.
Cal Lutheran teams competed in home games all day, including men's soccer, women's volleyball, men's water polo and football.
Tamagni watched the women's volleyball game from the stands for a change. For the past four years, she has grown accustomed to being on the court representing Cal Lutheran. While this was Tamagni's first alumni weekend, she was sure it would not be her last.
"I went with my alumni friends… to the volleyball game and the beer garden. We will definitely be back in the future," Tamagni said.
There were more people than usual in Rolland Stadium at this football game, though. The stands were packed with alumni sporting Cal Lutheran outfits, signs and tattoos. Cal Lutheran alumni cheerleaders even performed with the current Cal Lutheran cheer team at halftime.
Alumnus Tristan Baer, who graduated in 2013, said that he enjoyed watching his old team come out with a victory over Pomona Pitzer on the football field.
Baer, who attended the game with friends who were also Cal Lutheran alumni, said, "It was cool to watch [the football team] win. I played football when I went to CLU."
Another alumnus, John Henderson, who graduated in 1995, caught some of the football game. He said he mainly came back to Cal Lutheran for the festival that followed the game.
"I caught a little bit of the game but I am participating in the alumni [festival] today," Henderson said.
Henderson said he was excited to reunite with people he hadn't seen in a long time.
"What made me want to come back was to see old friends and to make new friends as well… to meet people and to see how everyone is doing," Henderson said.
Saturday night came to a close after a carnival hosted by Cal Lutheran's Programs Board. People rode the "cliffhanger," spun in teacups and slid and jumped in bouncy houses and slides.
ASCLUG Sophomore Senator Daniel Lacey spent the weekend showing his family around the school and hanging out with alumni and friends.
"[Alumni/family weekend] was an overall awesome experience… I was able to go to all these different activities and sporting events and run into friends and family," Lacey said.
Lacey said the location of the festival on Saturday was ideal for any activities people could want to be a part of.
"I really enjoyed having the festival in Kingsmen Park this year because you were able to just go to the carnival right after," Lacey said.
Programs Board Director Evan Carthen said he felt like everything went really well.
"We definitely had an increase in attendance for [the events]…the committees did an excellent job planning [them]," Carthen said.
For many, homecoming weekend provided an opportunity to reconnect and revisit. It can be expected that next year, students, alumni and families will be back to celebrate another year of success at Cal Lutheran.
Rachel Maurer
Staff Writer
Published October 22, 2014