Evan's Angle: Movie Review by Evan Engel
In David Ayer's "Fury" the scenes are slow and dragged out, yet somehow still manage to keep your attention. When there's action, most of it feels real while the rest seems like it was taken right out of the first "Captain America" film. The characters are slightly cliché and severely changed by war but you still succeed in rooting for them.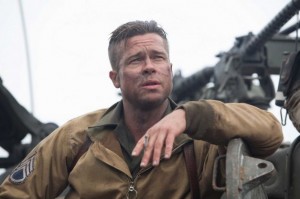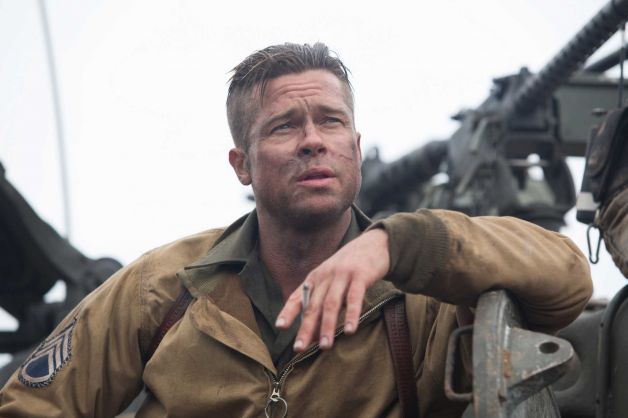 Ayer sets the tone of the picture during the opening image. When a Nazi officer is riding on horseback through the aftermath of a battlefield, a man jumps off from a tank nearby and attacks him. Instead of taking him captive, he tackles the Nazi to the ground and stabs him viciously until he's dead. This man is one of the main characters, Don "Wardaddy" Collier (Brad Pitt).
Wardaddy commands a tank named "Fury" filled with a crew consisting of Boyd "Bible" Swan (Shia Labeouf), Trini "Gordo" Garcia (Michael Peña), and Grady "Coon-Ass" Travis (Jon Bernthal). When they arrive back at a local U.S. base (with the dead body of their assistant driver), their fellow comrades are amazed to see them alive. Here, Ayer includes gripping shots of a truck pushing piles of dead bodies into a grave ditch. We see injured soldiers receiving care, Nazis held captive with their faces to the wall, loose body parts lying around, and a distinct, creepy fog-like appearance in the background that makes you feel cold in the heart.
When newly enlisted typist, Norman Ellison, (Logan Lerman) is assigned to be Fury's new assistant driver, Wardaddy is immediately opposed to him because he has never killed a man. He quickly makes Ellison clean up the tank inside, which is full of blood, guts and the torn off face of the last driver. Ellison begins seeing the true disarray of war without even ever having lifted a gun.
From there on, the crew sets off on several missions to help fellow American soldiers escape from being bogged down by enemy forces. We begin seeing an honest, unemotional view on war. Before leaving, Wardaddy tells Ellison, "Don't get too close to anyone." This may be the best piece of advice he receives.
Since Ellison has no real fighting experience, he's thrown into a tornado of all-out total war. After hesitating to kill his first Nazi, Wardaddy tells him, "It's either you or him out here." This depicts how emotionally disconnected the soldiers had to be if they were going to survive.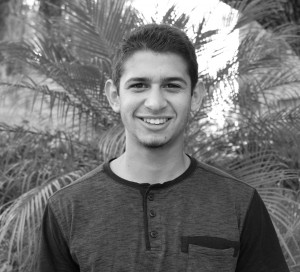 "Fury" has a way of tugging at your heart in a few different ways. First, the mood of the score automatically gives you a dark demeanor. Next, it forces you to ask yourself, "Would I be able to do this in this situation?" It also gives you no choice but to hold your breath at times (especially at the midpoint), since you don't know what one of the flawed characters will do next. Lastly, it has a way of making you feel nothing, even unhitched, to the actions the characters make because you understand their hardships.
Ayer did not write and direct this picture to be compared to more recent successful World War II films such as "Saving Private Ryan," "Schindler's List," "Flags of Our Fathers," and even "Pearl Harbor." Instead, he created this picture for one purpose: To depict an almost fable-like, yet down-to-earth portrayal of Hitler's total war decision near the end of World War II. This means that when anyone dies on screen, you're supposed to feel one of two conflicting emotions about their death – either remorse, or just ready to move on. Ayer's goal is to have you to feel what his characters feel: detached.
If you are a World War II enthusiast and have been dying to see this picture for some time, just be warned that you may walk out a tad disappointed.
The costume and production design was excellent nonetheless. "Fury" teaches you how forbidding the war grounds in Germany really were. The film has a knack of making you undergo several emotions all at once, while feeling nothing at the same time. All in all, Ayer does well in testing the capabilities of both good and evil human nature.
Star Ranking: Evan gave 'Fury' three out of five possible stars.
Evan Engel
Published October 22, 2014