Kingsmen have room for improvement
Kingsmen Water Polo
After a non-conference victory against Valley College, the Kingsmen Water Polo team dropped its first SCIAC match against Chapman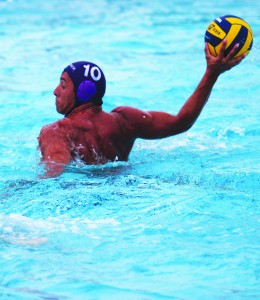 The California Lutheran University men's water polo team defeated LA Valley College 20-19 on Oct. 15. However, this success did not transfer to their first Southern California Intercollegiate Athletic Conference game on Oct. 18, in which they lost to Chapman 10-9.
"We've got to make sure we don't give up 19 goals a game so defense is going to be our focus today and tomorrow," coach and Associate Aquatics Director Craig Rond said after Wednesday's game. "We have a really good Chapman team coming on Saturday that we'll have to have better defense."
Despite their loss, the water polo team has already made great strides with some of their goals. Previously, the team had given up 19 goals, but with Chapman they reduced that number to 10, a large improvement for the team's defense.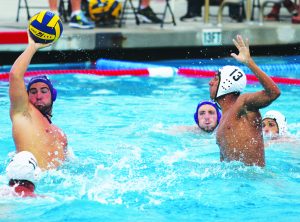 In the two games, senior goalie Jesse Owen carried the team through with his numerous saves. For Wednesday's game, Owen played the entire 32 minutes and made 14 saves, half of those made in the third period alone. He carried this strong defense into the Saturday game, saving 10 shots from Chapman.
"Our goalie did awesome. Jesse is our backbone and he carries the team every time," senior utility player and defender Zach Graper said.
Graper was able to score Wednesday's winning goal and match a Cal Lutheran single-game record with eight total goals in the game according to CLUsports.com. In Saturday's game, Graper continued as the highest scoring player with three goals for the game.
"We've had a hard time when we go down by a couple [goals] or even holding leads. We have a hard time staying focused and in control of what we can control and I thought we did that today," Rond said on Wednesday.
The opposing teams were never ahead or behind by more than two goals in both games.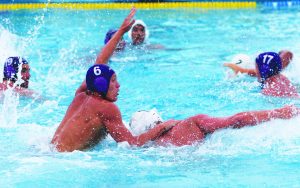 In Wednesday's game, the Kingsmen were able to keep it close and gain the upper hand but Saturday's game was less successful.
After Chapman's 10th goal, possession of the ball went back and forth five times but Cal Lutheran was unable to turn their possessions into goals.
"We can definitely improve on keeping the lead, keeping the game consistent," senior center Asante Sefa-Boakye said.
The water polo team had a strong fan base for both games in addition to their support from other teammates. Wednesday's game had a good crowd, filling the bleachers with some overflow. The crowd had several fans sporting purple shirts in addition to athletes from other Cal Lutheran sport teams. Even people swimming at the community pool stood by the fence to view the game.
Saturday drew an even bigger crowd to support the men's water polo team.
"Even though we're not going to have our fans in the away games, we still have so much support coming from the bench," Sefa-Boakye said.
Through Wednesday's game, the team was very vocal with their support. Though they will miss the fan support on away games, they have plenty of spirit to encourage each other.
The men's water polo team will play its second SCIAC game at Claremont-Mudd-Scripps on Oct. 22 and its next home game will be Oct. 29 against Caltech.
Allie Leslie
Staff Writer
Published October 22, 2014