CLU represents at celebration of the Civic Arts Plaza
The Thousand Oaks Civic Arts Plaza held Free Performance Day on Oct. 25 in celebration of their 20th anniversary.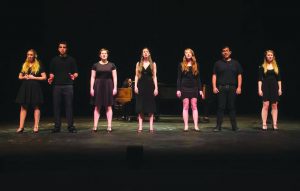 The surrounding community was invited to the Civic Arts Plaza to enjoy free performances from 12 to 5 p.m. in addition to a Discovery Center Kids Zone, food trucks and free cake.
Colleen Debler, director of public relations of the Civic Arts Plaza, said that in the past 20 years the Civic Arts Plaza has been around. Relationships with many performing companies have been built. These companies wanted to be a part of Free Performance Day and perform for the community in honor of the Civic Arts Plaza's 20th birthday.
The California Lutheran University Drama Department was front and center in the midst of performers, performing selections from the upcoming Cal Lutheran production of Songs for a New World.
"We performed a medley of the Opening, 'I'm Not Afraid' and 'The Christmas Lullaby.' I chose these songs because they highlight some of the beautiful song writing, strong character work and fabulous singing that are emblematic of the piece as a whole," said Heidi Vass, Cal Lutheran music professor and musical director of Songs for a New World.
Songs for a New World will be performed at Cal Lutheran on Nov. 18 and 19 in the Preus-Brandt Forum at 8 p.m.
The Cal Lutheran drama department has a longstanding relationship with the Thousand Oaks Civic Arts Plaza and has been invited to perform at special events multiple times.
"Organizations who have a history with the Arts Plaza were invited. CLU drama department performs there every other year," Vass said.
Junior Allie Leslie, who is part of the Songs for a New World ensemble, finds it exciting to have the chance to perform at the Civic Arts Plaza.
"I love performing at the Civic Arts Plaza because it is a lovely theater. We sang in the Scherr Forum where Cal Lutheran does a lot of its performances like Spring Awakening last year. It is a bigger space than the Forum on campus and it has phenomenal acoustics," Leslie said in an email interview. "No matter what you do you'll sound so much better at the Civic Arts Plaza which is so exciting. That and the size of the audience make the Scherr Forum a great place to perform in. It's also a great way to reach out and connect better with the community outside of CLU."
In addition to Cal Lutheran, Cabrillo Music Theatre, New West Symphony, Gold Coast Conservatory, Pacific Festival Ballet and Thousand Oaks Philharmonic were just some of the other performers available for enjoyment.
Pacific Festival Ballet has been the Civic Arts Plaza's resident ballet company since their inaugural season in 1994. According to their website, they claim their mission is to support and advance the art of dance and sustain the traditions of classical ballet while creating new and groundbreaking theatre.
Pacific Festival Ballet performed ensemble pieces from their original production The Sea Princess, Into Your Landscape and from The Nutcracker in addition to two solo performances.
The Thousand Oaks Civic Arts Plaza has been an important part of the community since opening in October 1994.
"It is important because it is bringing world class art to the community," Debler said.
Touring Broadway musicals such as Mamma Mia, Les Miserables and Beauty and the Beast have been performed there. In addition, stars such as Colbie Caillat and Bill Cosby, among others have also performed at the Thousand Oaks Civic Arts Plaza.
Amber Rocha
Staff Writer
Published October 29, 2014