Unsung heroes in the training room
When students think of the sports on campus, their thoughts typically go toward the season standings or the key players on each sport team. Rarely do they venture toward the instrumental people behind the scenes that make the season and the sports happen. These people include the athletic trainers at California Lutheran University and their support staff of student volunteers.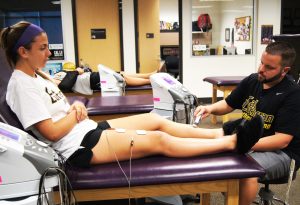 "Our job, basically, is to take care of any NCAA collegiate athletes that have been cleared to participate at Cal Lutheran," said Kecia Davis, head athletic trainer.
Davis, along with assistant trainers Samantha Olman and Cody Owens, have their work cut out for them when it comes to keeping up with all of the sports on campus.
"This year, because I'm still rehabbing, I see them a lot, but I go in for ice almost every day," said senior Kaylee Kastrup, co-captain of the women's water polo team. "They're just always wanting to know how you're doing and genuinely care about you."
The number one goal of the athletic trainers according to Davis, is to keep the athletes healthy and able to play in their sport.
Among the usual care of supplying water and tape, they also help assess all injuries and monitor the healing of previous injuries to avoid repeat incidents and to help them heal as quickly and as best as they can. Already this year there have been fractures and concussions, both typical with a contact sport such as football.
"An athletic trainer's role is kind of threefold. First we try to take care of them before they get hurt, which is prevention, and then when they are hurt, which is immediate care and treatment, and then after they are hurt to do their rehab," Davis said. "We deal mostly with a lot of muscle strains."
Their goal is to keep the athletes healthy and able to play, but they also help them to understand how to better take care of their own bodies and to better understand what their bodies are doing, why, and how best to handle the situation.
Volunteer student athletic trainer and Cal Lutheran senior Keeley Anderson said the most important part of their job is to "be aware" of what is going on when the players are in a game or in practice so that they are more prepared for and on top of what is going on.
"[Being a student athletic trainer] is a lot of fun and it never hurts to have a little bit of medical background," Anderson said. "We all know the practice schedules so we all try to make our schedules work around that."
The athletic trainers may have their work cut out for them most days, but watching them help the athletes shows how dedicated they are and how much they care about the students. For them, it is much more than just doing their job. They really seek to help the athletes stay fit and involved in their sports.
"[The athletic trainers] are the reason that I am still able to walk on my hip," Kastrup said. "If I hadn't been able to go to them every day I probably wouldn't be able to play my sport anymore."
Davis said that she could never do what she does for the athletes without the help of her "amazing support staff" of Olman, Owens and the volunteers. She said that she really hopes that they all know how much she appreciates their dedication to helping the Cal Lutheran sports continue practice and playing on campus.
Sydney Dawn
Staff Writer
Published October 29, 2014