Kingsmen and Regals Cross-Country
In wet conditions, the men's and women's cross-country teams ran their final meet of the season. The Kingsmen finished in eighth while the Regals finished in seventh
The California Lutheran University men's and women's cross-country teams had their final meet on Nov. 1 at the Southern California Intercollegiate Athletic Conference finals at Prado Park in Chino Hills. Cal Lutheran competed against eight other schools in the conference and came out of the championships with a seventh place standing for the women and an eighth place standing for the men, ending the season for the runners this year.
"I just want all the guys to walk away knowing that they put down their best effort and for them to walk [away] knowing that they couldn't have done [anything] different," said junior Garrett Baker, team captain for the Kingsmen. "More than anything, [our goal is] showing improvement from last year."
Baker finished first for the Kingsmen with a time of 27:10.96, which placed him 22nd overall.
For the Regals, senior Taelor Young had the best time, posting a 25:34.60 time. She finished 31st overall.
Training for the SCIAC Championships started back in May. At that time, the cross country runners began their individual summer workouts and training. It was not until the end of August that they came together as a team to bond and work together. Both Regals and Kingsmen, although competing in different sectors, practice together as the single team that they are.
"We have a philosophy here that we stick together as a team," said Brett Halvaks, Cal Lutheran cross country coach. "If just one individual qualifies [for regionals], whether it's a man or a woman, all the men and women on the team will still be out training together."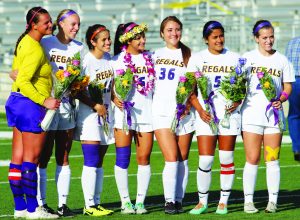 This philosophy and the implementation of practicing and competing together reinforces for the athletes that they are part of a team and that they are all in this together. Senior Amanda Miller, team captain for the women's cross country team, said that this helps motivate the athletes to put in their best work and push through the difficulty. Miller said that there comes a point in cross country where you are in a lot of pain and the only thing that keeps you moving is remembering that you are competing for your teammates as much as you are for yourself.
"The biggest challenge is not letting our fear get in the way of our abilities," Miller said. "My biggest role [as captain] would be kind of to inspire them and group them together and kind of focus them in."
Baker said although they practice and compete as a team, everyone has their own way of getting ready for meets and different traditions which allow the athletes to mentally prepare for the meet that they are already physically prepared for. Some eat the same meal the night before every meet, and others warm up the same way the mornings of.
"On the day of the race, I like to joke around with the guys," Baker said. "[My main role as the captain] is making sure everyone's ready to go, making sure everybody's mentally right and that they don't have other issues."
Baker said that he recognizes that as students, the athletes have other stresses in their lives. This could come from school, family, friends, jobs or a number of other things, and could affect the way the athletes are able to prepare and perform at meets. Miller agreed and said that it is really important for the athletes to learn how to let those parts of their lives fade to the background for those few hours at the meets.
She said that if they can do this, it will allow them to better perform at the races.
"Both these teams, for the future, I definitely think are set for the next few years," Halvaks said.
The 2014-2015 school year is Halvaks' first year coaching at Cal Lutheran. He said he sees a lot of great talent in the team and he looks forward to seeing how they grow and perform in the years to come.