A pop of culture: ComicComm class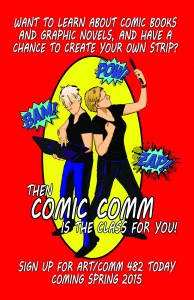 While registering for spring 2015 classes, you may come across a 482 special topics course that will satisfy either a communication requirement or a participatory visual art requirement.
This course would happen to be ComicComm, the collaboration of communication chair Dr. Dru Pagliassotti and art professor Terry Spehar-Fahey.
Pagliassotti said she will be teaching the history and ideology of comic books while Spehar-Fahey focuses on the art.
"I'm going to be teaching how to make one for yourself through the iPad apps for comic books and then how to post onto the web and basically generate your own stories and your own art," Spehar-Fahey said.
But how does one even come up with the idea for a comic book class?
"I've done quite a bit of research in Japanese manga and most recently in steam punk comic books. So I really wanted to bring my research into the classroom in some way," Pagliassotti said. "To do that, I have to talk about comic books. So this was an opportunity for me to teach something that I'm actively involved in and enthusiastic about. I sort of dragged professor Spehar-Fahey into it with me."
Spehar-Fahey said she came willingly.
"I wasn't kicking and screaming. Not at all. I just remember that Dru [Pagliassotti] wanted to teach a comic book class and I put two and two together. It was, 'Dru, you want to teach a comic book class?' 'I'm willing to make a comic book,'" Spehar-Fahey said.
ComicComm is the second combination of Pagliassotti and Spehar-Fahey's talents and passion for combining communication with visual art. The first being the Imagining Venice travel seminar California Lutheran University holds every other year. The two lead a group of students around Italy for two weeks teaching them about the art, history and culture.
"One of the things that our communication department doesn't do is it doesn't really teach a lot of graphic communication, visual communication. So this is an opportunity," Pagliassotti said. "We've taught our Imagining Venice class as well, another one which we're trying to combine communication with visual arts. This is just another attempt for us to bring this idea of visual communication together in a single class."
If a student is interested in taking the course but is worried about the art concept, do not fret.
"Stick figures are completely appropriate and if you look on web comics that are already published, there's a lot of stick figure people wandering around the internet," Spehar-Fahey said.
Even if your stick figure drawings are not all that great, there is another way.
"Students could also take photographs that represent each panel and then run them through a series of photo filters on the iPad and other art programs and illustrate over them to, kind of, make-up panels that way too. We'll take either one," Pagliassotti said.
In an attempt to prepare for ComicComm and see how difficult it might be to create your own comic book, the two began their own online web comic. It has now evolved into something they predict will take five years to complete. Though they would not share what it is about, it can be found at jackdawandpeacock.com.
Amber Rocha
Staff Writer
Published November 12, 2014