In late June 2014 sophomore Cody Jones, who was diagnosed with cerebral palsy, broke the North and South American record for the farthest javelin throw three times at the United States Paralympics Championships in San Mateo, California.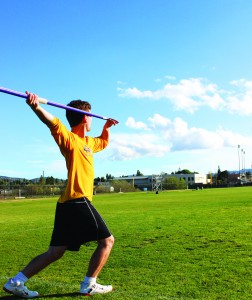 Jones' 39.56-meter throw helped rank him No. 1 in the Americas and No. 6 in the International Paralympic Committee official world ranking in the javelin's F38 class. Jones is currently training to potentially be a participant in the 2016 Paralympics in Rio de Janeiro.
Jones' teammate, junior Allie Hadley, who is also the reigning SCIAC title winner for javelin the past two years, has nothing but admiration toward his athletic achievements.
"For the condition that he is in, he exceeds all standards. Cody has to overcome so much. After you talk to him and he explains how CP works, you see that he is out there doing what he does and at such a high level. It is absolutely amazing," Hadley said.
Jones only had four months of training before he faced his javelin competitors at the national championships in San Mateo at the end of June.
"I haven't even been throwing javelin for a full year yet. When I first started I was barely throwing 80 feet, and now I am throwing really far, 40 meters," Jones said.
Before Jones threw javelin at California Lutheran University he was a varsity outfielder for the Simi Valley High School baseball team for three years.
"I played baseball growing up, and in high school I learned how to catch and switch the glove to my other hand and throw like the baseball player Jim Abbott," Jones said.
Jones said because of his cerebral palsy he has limited function of his left side. Jones cannot pinch his fingers together, he cannot hold a fist, and he cannot turn over his left hand.
Jones' clever switch-and-throw routine attracted the media. A story printed in the Los Angeles Times about Jones' incredible athletic ability caught the attention of Cathy Sellers, the Associate Director of High Performance for the U.S. Paralympics Track & Field Team.
"When I was a senior Cathy [Sellers] told my baseball coach she wanted me to throw javelin. She knew I did baseball and throwing events are so similar," Jones said.
However, California is one of the 36 states in which throwing javelin is banned from high school sports due to a fear of liability.
Instead, Jones began training for the discus throw for the 2016 Paralympics with Simi Valley's head throwing coach Mike Torieta.
Jones later became a member of the Kingsmen track and field team. He debuted the 2014 field season solely as a discus thrower. However, the javelin throwers caught Jones' eye and he sought out the head javelin coach, Justin Puccinelli, to know more.
"He came out here to throw discus but then decided to throw javelin. He emailed me a couple of weeks after season had started, and I want everyone to get the opportunity to learn, so Cody talked to the head coach Matt Lea, and he allowed it," Puccinelli said.
Jones excelled quickly with his admirable work ethic. He never made excuses or complained that his left side could not take the strain of javelin training.
"There is proper technique to javelin, and my teammates Allie and my coach Justin push me to do as much I can the proper way. All the Paralympic athletes I have met, there is no excuses. They are just normal athletes as well," Jones said.
In May he traveled to the Arizona Desert Challenge Games where he was reclassified from the F37 class to the F38 class, which is a higher-level function of cerebal palsy, head injury or stroke athletes.
"The kid will let nothing stop him. The fact that he has to go at 6 a.m. and do the Olympic lifts that everyone else is doing and half the time he can only really do it with one arm and doesn't complain once," Hadley said.
The next steps for Jones to be a potential athlete in the 2016 Paralympics are to qualify for the 2015 Nationals Championships in June and the Doha 2015 IPC Athletics World Championships.
"He chose to make the cerebral palsy make him into an absolute amazing athlete and gave him the work ethic that I think will eventually lead him to being a world champion," Hadley said.
Brooke Straeter
Staff Writer
Published February 4th, 2015