In September 2014 California Lutheran University welcomed a new assistant professor, Dr. Ariana Young.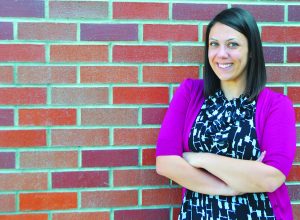 Young teaches in the psychology department and for the Bachelor's Degree for Professionals program.
Young is a psychologist with a proficiency in social psychology; the studies of why people think, feel and behave the way they do and how the presence of others influence them.
"I'm really fascinated by how people are impacted by others," Young said.
Young received her Bachelor of Arts in Psychology with highest honors at the University of California, Santa Barbara. Upon graduation Young worked full time managing the research lab at UCSB. Two years later she went to graduate school at the University at Buffalo, earning her Ph.D. in Social-Personality Psychology.
While Young was working towards her Ph.D., Olivia Schlager an undergraduate student of psychology reached out to Young to mentor her while she worked on her Honors Thesis.
"She's very receptive to other's ideas," Schlager said. "She's always willing to work as hard as she can to help in that collaborative process."
Collectively they published a study in the Basic and Applied Social Psychology Journal titled "Does this friend make me look fat? Appearance-related comparisons within women's close friendships; a look into how social comparison with close friends impacts women's body images."
"She was great as a mentor and I thought she was really great to work with," Schlager said. "Especially in the sense that she provided feedback that I definitely needed to hear, but she was always very constructive about it. She was always really willing to help and to demonstrate those skills that maybe I hadn't quite had yet."
Cosmopolitan Magazine interviewed Young in November 2014 as an expert source for an article on body image based on the findings she and Schlager made.
Young has been published in multiple prestigious psychological journals and has been featured on websites such as CNN, Men's Health, The Huffington Post, Forbes Magazine and many more.
When Young finished her post-graduate work she began applying for teaching positions.
"I was really drawn to the smaller liberal arts setting," Young said. "I wanted smaller class sizes where I could interact with my students, get to know them on a more personal level and provide feedback and really help guide them in their goals."
Dr. Lisa Buono, the director of the Bachelor's Degree for Professionals, a program designed for working adults who meet one to two nights a week for 11-week terms, saw something special in Young.
"She seemed like when we went through the search process she would be a really great fit for our students as well as for our staff that work in the program and that's definitely been the case," Buono said.
Young teaches social psychology for the Bachelor's Degree for Professionals. In class students discuss how one's thoughts, feelings and behaviors are influenced by the actual, imagined and implied presence of others. Young covers topics such as attitudes, the self, relationships, helping, aggression and prejudice.
"I try to provide hands-on learning opportunities for my students," Young said. "I like to include lots of demonstrations and activities in class so they can 'see' and 'do' psychology for themselves."
After completing a lesson on prosocial behavior, Young had her students make Valentine's Day cards for children at Los Robles Hospital.
"Rather than me simply lecturing on the positive psychological effects of prosocial behavior, the students were able to experience it for themselves," Young said. "It was truly a rewarding experience."
Students can also find Young teaching Statistics and Research Methods II for traditional undergraduates.
"She's teaching two different populations of students," Buono said. "She recognizes that and she's made a very conscious effort to make sure that she designs the delivery of her courses in a way that it's appropriate for the two different populations."
Young says she has found a home at Cal Lutheran.
"Since I've been here, the most important thing to me is being part of this community where everybody really is invested in each others success and well-being," Young said.
Young is excited to start working with students as a mentor, to start a research lab and to help the students run their own projects.
"I really love what I'm doing here, and I'm truly genuinely happy being here at Cal Lutheran," Young said. "I almost can't believe it. It's one of those things where you almost want to pinch yourself and say 'is this real?' But it is, this is my career and I get to do what I love, and I'm so honored to be able to do it."
Daniela Abravaya
Staff Writer
Published February 11, 2015