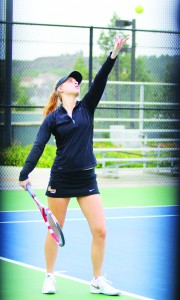 California Lutheran University's women's tennis team won their first Southern California Intercollegiate Athletic Conference match of the 2015 season on Feb. 7 in a 6-0 victory over Occidental College at the Poulson Tennis Center.
Although the match was shortened due to rain conditions, the Regals did not let the drizzling weather dampen their doubles play earning a quick 3-0 lead against the Tigers.
"We had to be a little bit more cautious when moving because if you move too far or too fast there is a chance to slip. You just have to use that against your opponent and move them around while keeping your feet on the ground and not your butt on the ground," sophomore Rebecca Gold said.
Cal Lutheran's No. 1 team of Mallory Kenny and Shelby Kubota defeated Occidental's Sara Charney and Keilani Bonis-Ericks 8-4.
"We communicated well. We were playing really aggressive and we were able to read the ball well and know where to hit it," Kenny said.
The Regals' No. 2 team Emily Werman and Annette Sousa went on to win 8-5 over Amber Gadsden and Lauren Hutkin. Cal Lutheran's Gold and Sarah Baker finished 8-4 against Samantha Farrell and Lucy Malloch.
"We do strategies very well. We just get each other," Gold said.
Head Coach Vanessa McPadden said she was was proud of the doubles sweep. McPadden said the young team is made up of hard workers who are willing to step it up right away.
"I think the girls just stuck with it and figured out how to play and make them miss," McPadden said.
The singles success started when Cal Lutheran's No. 6 Sousa dominated Isabella Korfmann with a 6-0, 6-1 victory earning the Violet and Gold their fourth point of the day.
Before the match was shortened due to rain, Cal Lutheran's Baker at No. 4 took down Gadsden with a 6-3, 6-0 victory for the Regals making it 5-0.
"Sarah is our only senior. She stays calm and she executes her shots very well," Gold said.
Cal Lutheran's No. 5 Kubota was able to finish her singles match with a 6-0, 6-0 domination over Occidental's Hutkin resulting in the final score of the day 6-0 Regals.
Before the tennis courts were cleared due to weather conditions, Kenny was in the midst of an aggressive comeback 7-5, 2-1 against Bonis-Ericks at No. 1.
"I am really proud of her because it is hard to play someone who is hitting a lot of good shots. Her opponent's forearm was really good and Mallory figured that out and was patient and calm," McPadden said.
Kenny, a freshman, is playing in the No. 1 spot for both doubles and singles, was down 5-1 until her energy surged and she stayed strong to take the lead.
"I think in the beginning I was really hesitant in the rain and I was scared to move, but then I finally just realized that I am going to be out here.  I started moving my feet and I just became more positive," Kenny said.
Both Cal Lutheran's No. 2 and No. 3 were in the lead before the match was called. Gold was up 6-3, 3-0 against Farrell at No. 2 and Werman was ahead of Charney 6-4 at No. 3.
The Regals now have an overall record of 2-0 and are 1-0 in SCIAC. The Tigers are 0-1 overall and 0-1 in SCIAC.
Before facing Pomona-Pitzer on Feb. 20 at 2 p.m. at the Poulson Tennis Center, McPadden said she wants to encourage the Regals to stay confident and strong throughout the match.
"We will be preparing by getting faster on the court. Whether that's a better warm-up or that's figuring out some sort of strategy to get a little bit quicker and faster right off the back," McPadden said.
Brooke Straeter
Staff Writer
Published February 11, 2015